What is the season of hurricanes and earthquakes in Cancun? Check out the answer to this question and learn all about these natural events. With this guide, you will have a complete plan for your trip. Enjoy!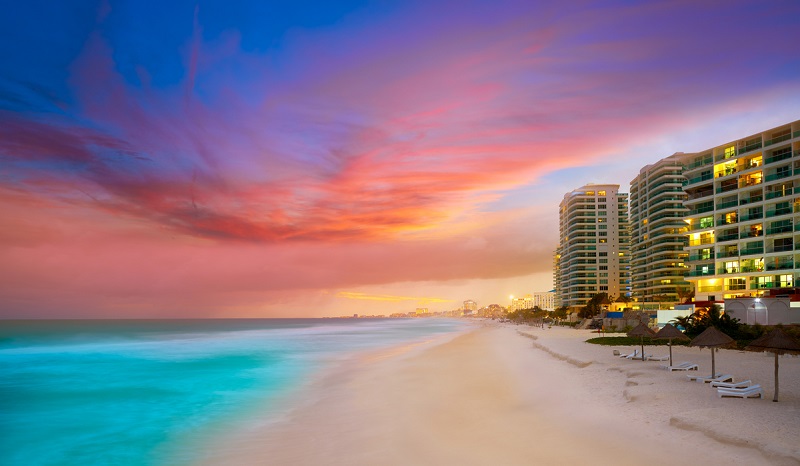 After reading this article, check out our tips about how to save a lot of money on your trip to Cancun. It is the most accessed article on our blog and will help you a lot with all the trip planning. There are several unmissable tips that will save you A LOT of cash and set up your entire trip to Cancun.
Most favorable months for the occurrence of hurricanes/earthquakes in Cancun: from June to November
June and July: are very hot months. In June it rains more, but in July the rain gives a break. However, it coincides with the start of the hurricane season.
August/September/October: these are the months when the population is more attentive to natural effects, earthquakes and hurricanes. A curiosity is that when they reach land, they are more catastrophic than when they reach the sea.
Tip: saying that these months are the ones with the highest incidence of hurricanes, storms and earthquakes, for example, does not mean that they will necessarily happen. It's possible? Yes! But, it's also possible that it doesn't. The important thing is to stay tuned!
Tip: if you are in Cancun during a hurricane or earthquake, rest assured that this city is prepared to serve its visitors in the best possible way, issuing alerts and evacuating establishments when necessary.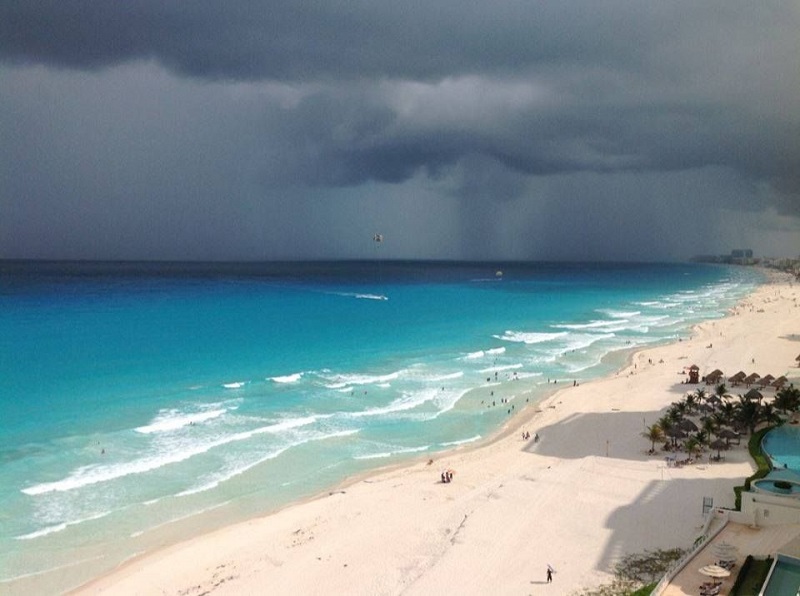 Frequently asked questions about what to do if a hurricane/earthquake occurs while in Cancun
I am on a trip to Cancun at a time of increased risk of hurricanes and earthquakes. How to proceed?
Go to your hotel (or wherever you are staying) and follow all the necessary instructions. Most hotels in this city have hurricane policies in place, so rest assured they will know how to handle this situation as best they can.
Generally, warning signs for these natural events occur about 2 days before the actual event. If the airport is open, it is possible that the tourist will be sent to it to catch a flight. If it is closed, one option the government offers is local shelters.
Try to be with your personal documents whenever possible, take out travel insurance and seek guidance.
It is very rare for these natural events to happen. To get you an idea, in 30 years there were only 3 hurricanes in Cancun.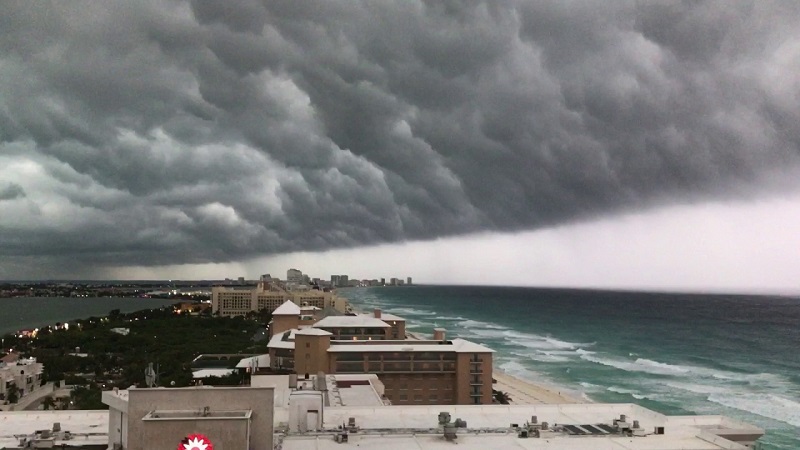 High season months in Cancun: December, January, February and March
December and January: these are the most popular months for tourists. The rains are not as constant or as strong as in the months of August, September, October and November, but the weather is milder too, since it is winter in Cancun at this time of year. Prices go up a lot, so get ready to shell out good money on accommodation, meals, tours and other travel items!
February and March: As these are high season months, hotels tend to be very crowded. In addition, Spring Break parties are held in March (parties that take place during the recess of high schools and colleges in the USA), which make the establishments even more crowded. The temperature is high and it doesn't rain much.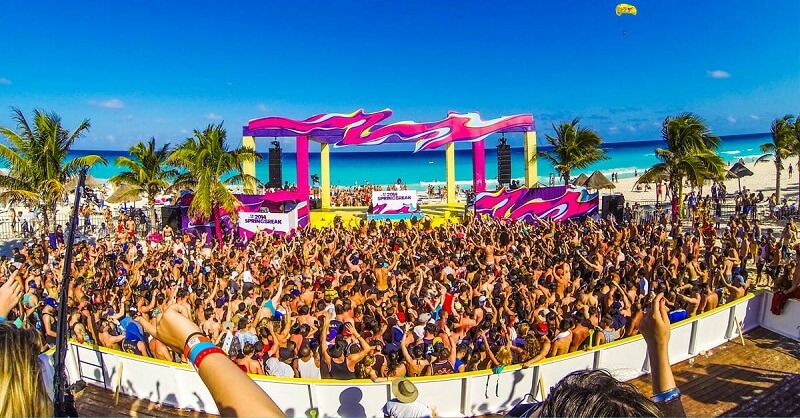 Low season months in Cancun: April and May
April and May: perhaps the best months to make the most of Cancun, as it rains little, the temperature is pleasant and prices are lower due to the low season. If you are wondering what to do at this time there, here are some pointers: Isla Mujeres and Isla Contoy.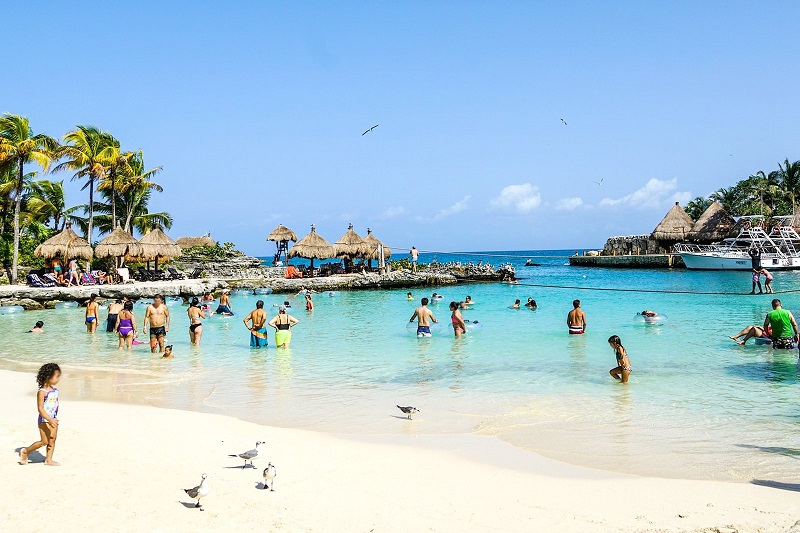 Cheapest months of all in Cancun: August, September and October
August, September and October: even though it is warm months to enjoy the beaches, this is the worst time of the year to visit Cancun, as the rains are more constant and are the months with the highest incidence of storms and hurricanes. However, it is the period with the lowest prices.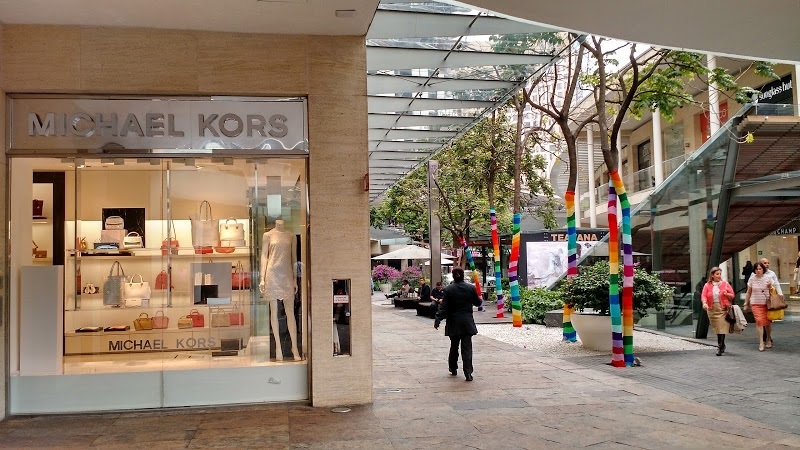 Events/Celebrations throughout Mexico
If you are looking to find out about events across Mexico, check out some of them that are great for your trip:
Día de Los Muertos (Day of the Dead): takes place on November 2nd. On this day, Mexicans from all over the country celebrate life with a lot of music, typical foods, parades and clothing. To better understand, this date is like a return of the deceased ones to this world, that's why the celebration!
Carnival: in Mexico, this date usually happens in February. An important point is that not all Mexican cities are holding this celebration, so it's nice to ask someone there. The event itself is filled with music, costumes, masks and other artifacts.
Holy Week: considered one of the favorite times of Mexicans, it is when they take advantage of these days to enjoy some of the country's beaches. If you are there during this period, already know that they will be full!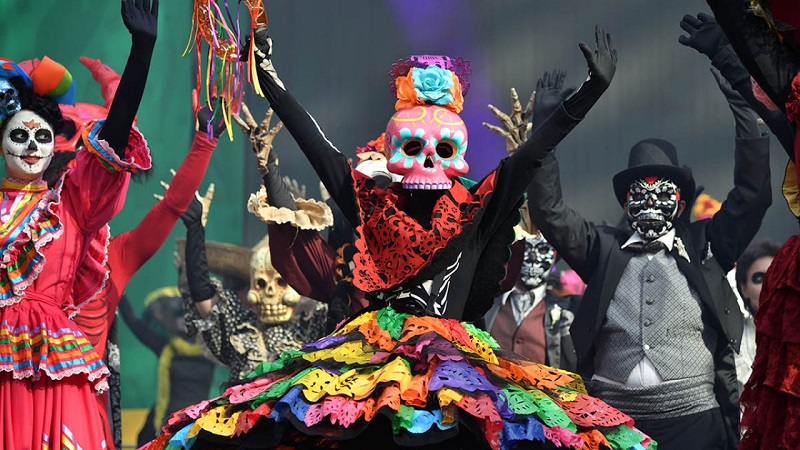 Cry of Independence: celebrated in the month of September, throughout several Mexican cities you will come across flags, decorations, special lighting etc. A curiosity is that at midnight, the famous scream happens, considered a unique and totally special moment!
Day of the Virgin of Guadalupe: celebrated on December 12, this is a day dedicated to the patron saint of Mexico, Guadalupe. If you are in any city in the country and notice that on the 11th they will be singing congratulations in churches, already know that it is for her.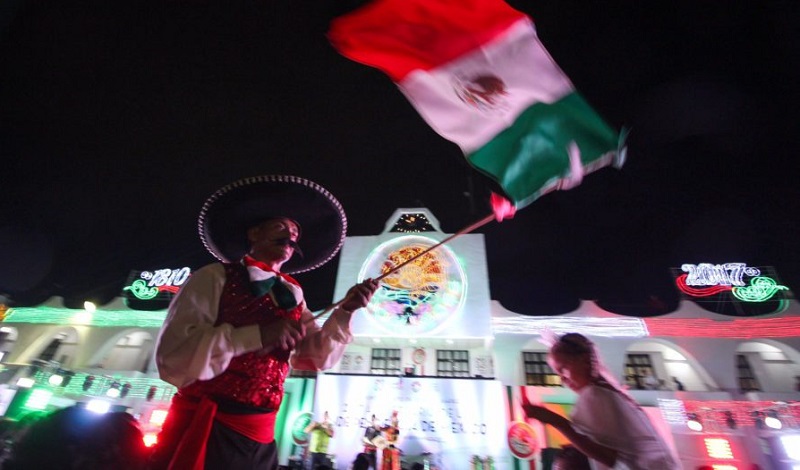 Holidays in Mexico
Did you decide to go to Mexico sometime during the high or low season? So, see what the holidays are in this country:
January
01/01: New Year.
February
02/05: Mexican Constitution Day.
March
03/15: Birth of Benito Juárez.
April
04/01: Holy Thursday.
04/02: Good Friday.
04/04: Easter.
May
05/01: Labor Day.
September
09/16: Mexican Independence Day.
November
11/15: Mexican Revolution.
December
12/25: Christmas.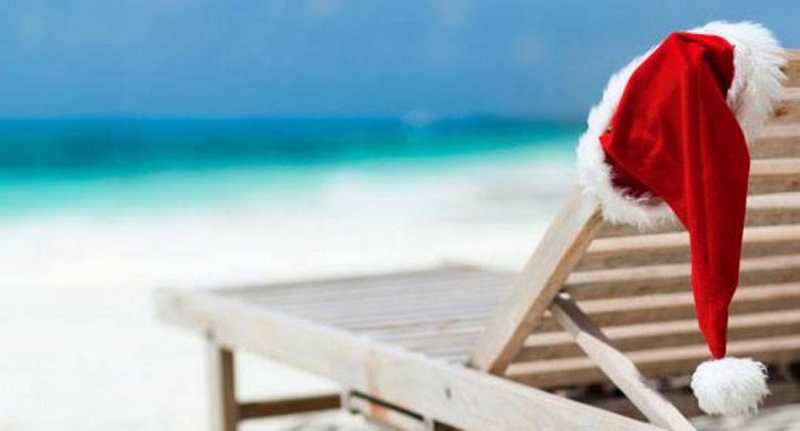 How to find great hotels and resorts at unbeatable prices in Mexico
A great tip for finding great hotels and resorts all-inclusive with incredible prices, in the region you want and save a lot on lodging in Mexico is to use this Hotel Search Engine in Mexico. We always use it as it is the largest hotel booking site in the world and therefore it is the best place to book with confidence and security.
Not to mention that it has all the hotels and resorts in Mexico and the world in his research and unbeatable prices due to the strong negotiation they do with the hotels. We always make our reservations there so we don't have any problems and we always save a lot, especially in the Caribbean.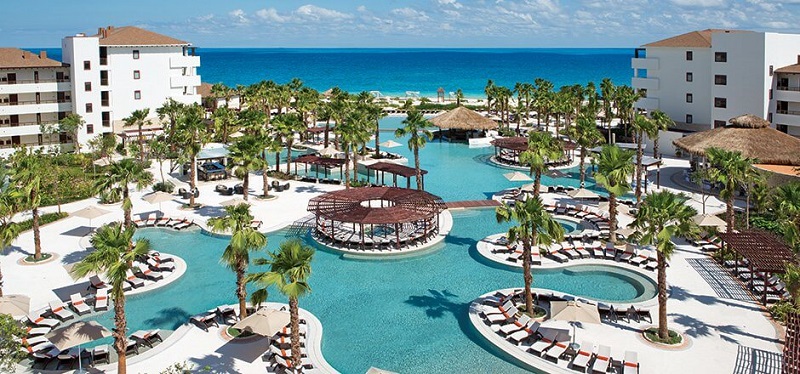 Another very good tip is that this search engine has a very strong partnership with the establishments and they offer free cancellation with almost all hotels. This is great, because the factor that will save you the most in hosting is the advance. This is the most important tip.
The sooner you make the reservation, you can be sure that the cheaper you will pay. So, you can book your hotel now, to guarantee the lowest price, and if you find a better one afterwards or don't want to stay in it, just cancel for free.
How to find VERY cheap flights to Mexico
By following some important tips, you will be able to find much cheaper airline tickets to Mexico and save a lot, since the ticket is the most expensive item of the trip. The first great tip is to access some airline comparator, which does a search on all airlines to Mexico. It saves you from having to log into each company's website and shows you all the options available.
We always use this comparator of airline tickets, because it is the one that always has the best prices and is one of the safest and most famous in the world. Click on it and follow the tips below to save a lot when buying your tickets. Just using it, you will be able to find the best prices and the best ticket options.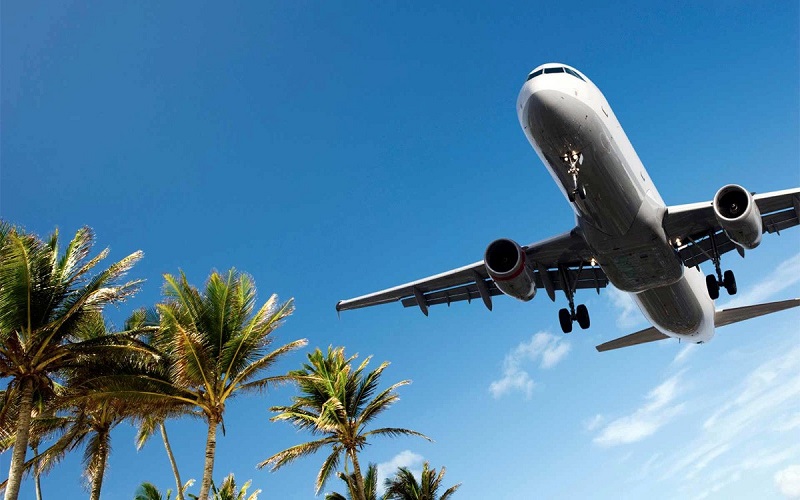 The main tip is to always search in the low season months. In Mexico, the months of July, December and January are the most expensive. Another cool tip is to check the price of the ticket to another nearby locality. You can find much cheaper flights and then, from there, just buy an internal flight that is much cheaper or even go by car to Mexico. Another tip is to research the flight date always falling on a Monday, Tuesday or Wednesday. Thursday, Friday and mainly Saturday and Sunday flights are usually more expensive. Generally, night air tickets are the most expensive and afternoon flights are cheaper.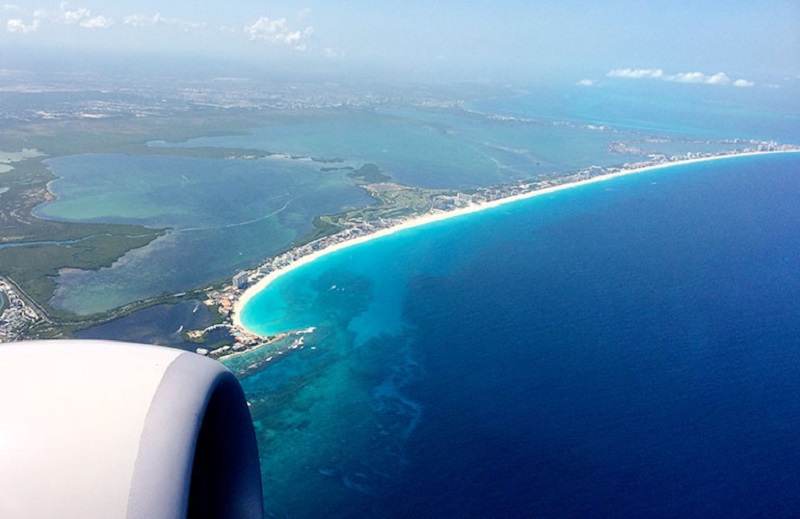 Important tips to enjoy much more your trip to Cancun
Now that we have given you all the tips about season of hurricanes and earthquakes in Cancun, here are some more suggestions that will make your trip even better. Cancun is a big city and its tourist spots and beaches are concentrated in some regions, so being well located makes all the difference. If you haven't already booked your hotel, be sure to check out our article Where to stay in Cancun, with tips from the best regions and also how to get a great hotel at a great price (and find all inclusive hotels and resorts on sale).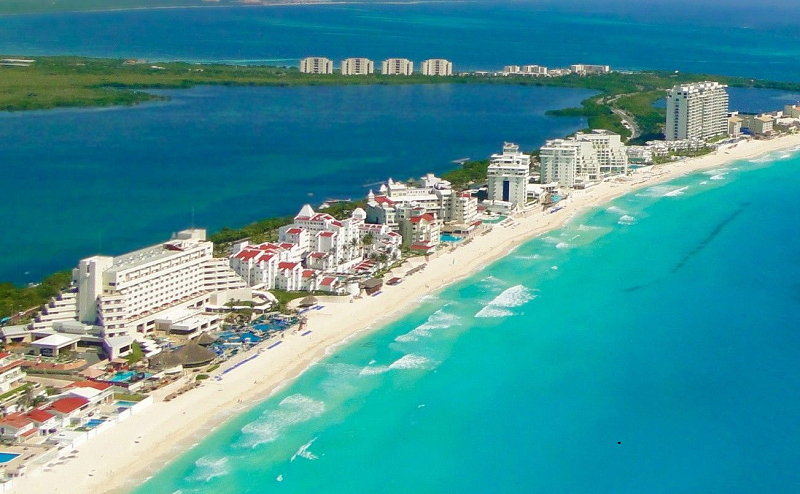 Another good tip is that many people think it is not worthwhile to rent a car in Cancun, but it all depends on how your trip will be. If you are staying at the hotel every day, it really is not worth it. But, if you are going on tours, want to go to shopping malls and tourist spots, they are all a little bit apart and the car is great for getting around.
Even in the hotel zone that has everything there, the distance between the points is great, and without the car you need to take a taxi or public bus. With the car, you have more comfort and freedom, not to mention the economy, because with the value of the transport that you will spend from the airport to the hotel and vice versa, you have already paid the rent of a car for almost 5 days. If you want to know all the tips on the subject and how to get incredible prices, see our full article about how to rent a car in Cancun.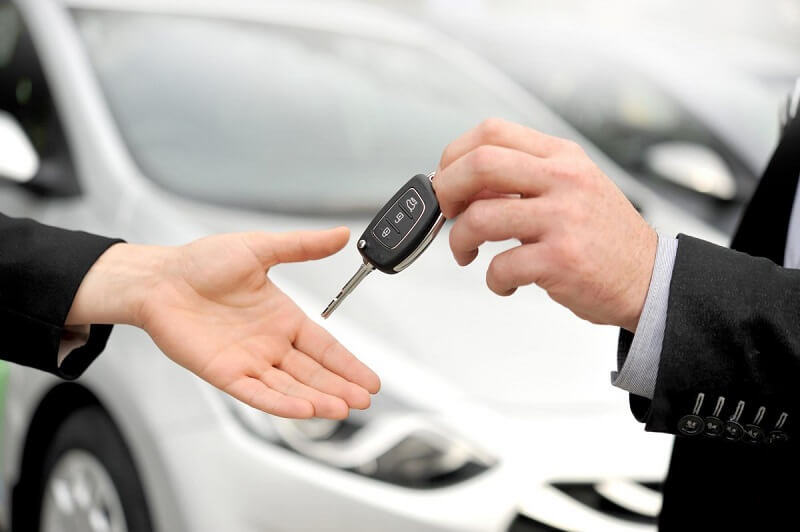 Where to buy the cheapest tickets for tours and tourist attractions in Cancun
A good suggestion to save money is to buy tickets, tours and excursions in advance online. It costs a lot less and you don't waste time in lines there in Cancun. We have done a lot of research and the site that always has the best prices is this Cancun tickets website. They are the biggest tours tickets website in the world.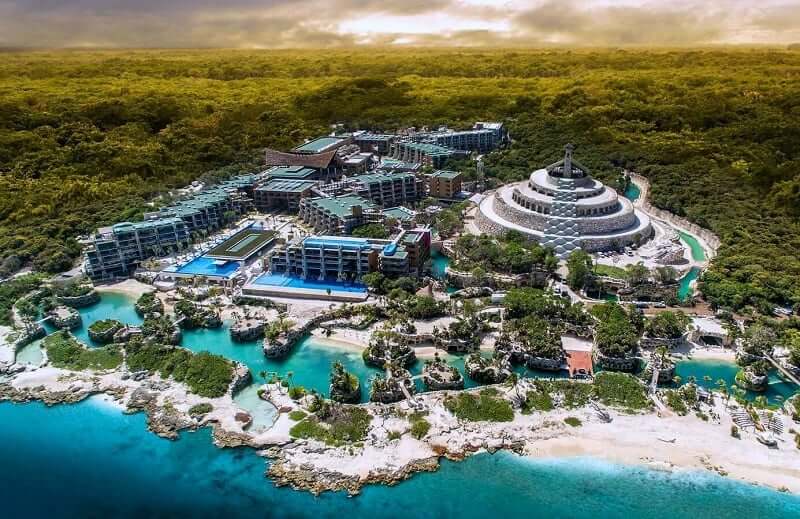 The unmissable tours that cannot be left out of your trip in any way are: the excursion to Isla Mujeres, excursion to X-Caret or Xel-Há (two incredible natural parks), the Coco Bongo party and the excursion to Chichén Itzá, which is one of the seven wonders of the world. It also has the swim with dolphins which is incredible. Virtually all tours pick you up at your hotel and drop you back there.
Don't forget about travel insurance to Cancun
Another tip is to not forget to take international travel insurance to Cancun, as it is very important and no one should leave the country without one. If you want, read our article about travel insurance for Cancun and see tips on how to get good insurance at an incredible price. It is super cheap and very worth it.
How to use your cell phone in Cancun
Being able to use the Internet from your cell phone in Cancun is very worthwhile. The tourist attractions, restaurants, shopping malls and beaches have great applications. In addition, you save by not having to rent a GPS for the car with the rental company, you can search the addresses and times of the places, see the weather forecast to plan for the tours and beaches, stay connected with everyone through applications and post your photos of Cancun on social networks.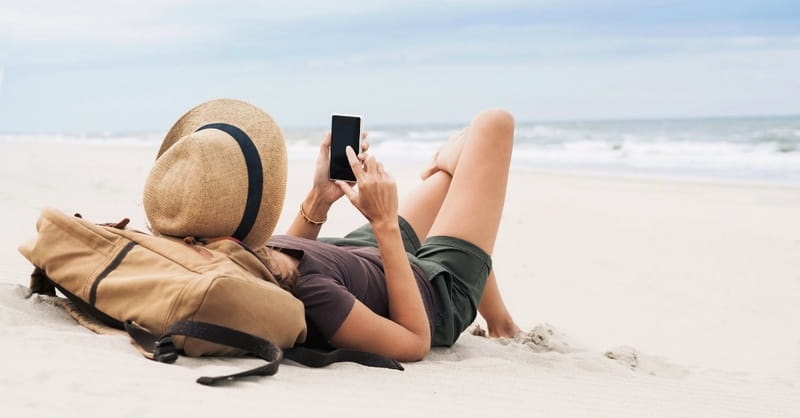 If you want, see all our tips to use your cell phone in Cancun. It's super cheap and you'll be able to use your cell phone all day and anywhere. And, you can also search all about season of hurricanes and earthquakes in Cancun for when you're there.
Other must-see articles from Cancun: