Discover the best tourist attractions in Cancun. See what they are and guarantee the dream trip for when you are there. What is not lacking in Cancun are incredible tours and attractions for you to visit with friends and family, ranging from breathtaking beaches to the impressive ruins of the Mayan civilization. Check below the list of the main attractions of this destination.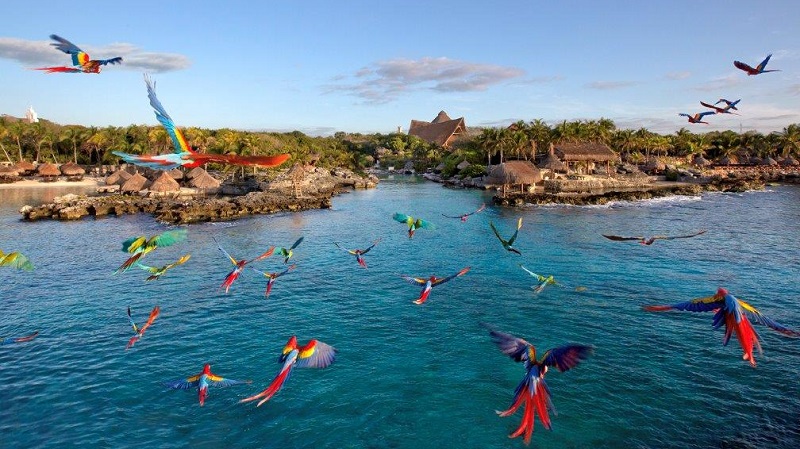 After reading this article, check out our tips about how to save a lot of money on your trip to Cancun. It is the most accessed article on our blog and will help you a lot with all the trip planning. There are several unmissable tips that will save you A LOT of cash and set up your entire trip to Cancun.
Main beaches
If you are going to Cancun, right away we want to indicate the MAIN beaches to enjoy there:
Carmen Beach
Delfines Beach
Tortugas Beach
Langosta Beach
Punta Cancun Beach
Chac Mool Beach
Linda Beach
North Beach
Marlin Beach
Akumal Beach
Gaviota Azul Beach (Blue Seagull Beach)
Carmen Beach (Playa del Carmen)
Close to the city of Cancun, you will find the famous Carmen Beach, one of the most sought after destinations by tourists precisely for the cinematic landscapes and the inexplicable tranquility of the place! Like Cancun, Carmen Beach is a popular destination, but with a more natural and intimate atmosphere. There, you will be able to walk peacefully on the beach, swim in the peaceful green sea, dive, enjoy the scenery and also stroll along the charming 5th Avenue, which is simply the heart of Playa del Carmen. It is precisely on this avenue that most of the city's restaurants, bars and shops are located.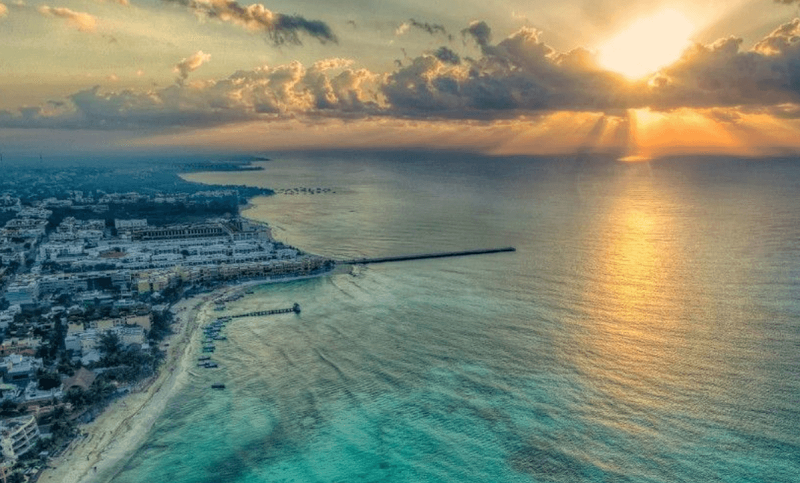 Delfines Beach (Playa Delfines)
The name itself says, this is the beach of dolphins! In all seasons of the year, mammals appear to grace this tour. You can see them from the sand and also swim with these friendly animals. With calm and crystal clear waters, this is the perfect place to enjoy the sun and even learn to surf. Being a little distant from the big hotels, Delfines Beach ends up being more peaceful. There you will also find public restrooms and umbrellas. This is certainly one of the best beaches in Cancun.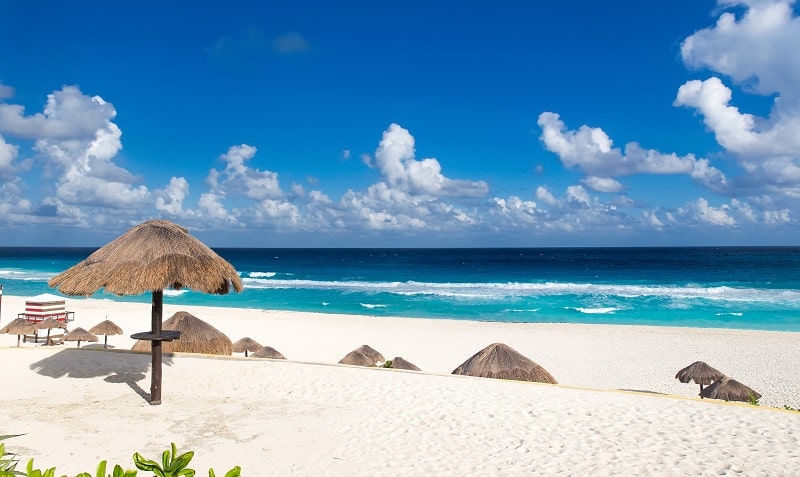 Tortugas Beach (Playa Tortugas)
Tortugas Beach mixes the best of both worlds: it is a calm and great place to enjoy with the family, but it also offers more radical activities, such as bungee jumping, diving, jet skiing and surfing. What's more, the beach area is full of delicious restaurants! There, you can also take the opportunity to make several boat and ferry boat trips, the same ones that take hundreds of tourists to the trendy and paradisiacal Isla Mujeres.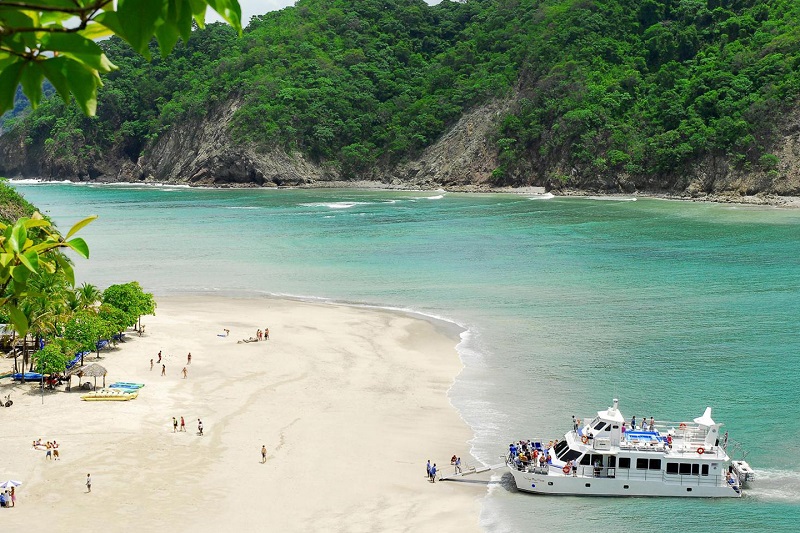 Langosta Beach (Playa Langosta)
When you step on this beach you will feel like you are in the Caribbean! As it is not such a popular beach, Langosta Beach is more peaceful, perfect for enjoying with your children. The calm sea invites you for a relaxing afternoon and even a walk on the sand. Here you will also come across the famous dolphins. And, for lovers of fun photos, be sure to make some records in the colorful sign of Cancun that is on this beach.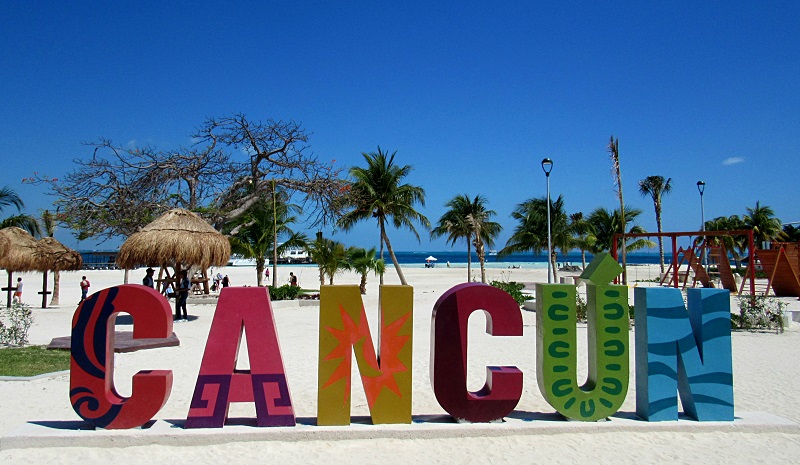 Punta Cancun Beach (Playa Punta Cancun)
Let's agree that whoever is in Cancun really wants a good party! And, the perfect beach for those who want to spend a busy afternoon is Punta Cancun. In its surroundings are concentrated several ballads and shows. It is possible to spend hours sunbathing, swimming or simply relaxing in the shade of the palapas (a kind of straw umbrella). If you like to dive, Punta Cancun is also a great option, as there are several coral reefs nearby.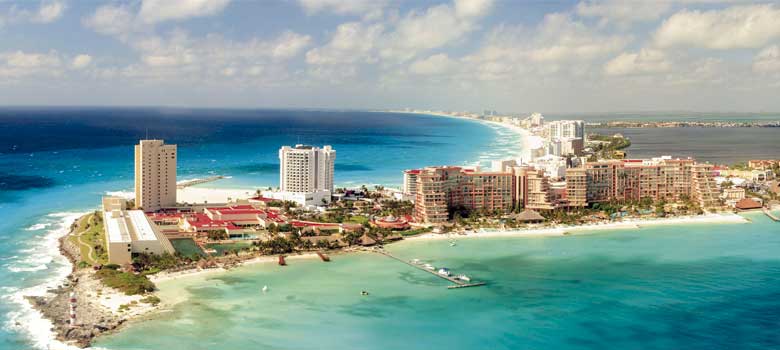 Chac Mool Beach (Playa Chac Mool)
If you are running away from hustle and bustling beaches, this is the best option. With no kiosks, vendors or any trade, Chac Mool Beach has become a haven for those looking for a little silence, out of the hustle and bustle that goes on in the heart of the Hotel Zone.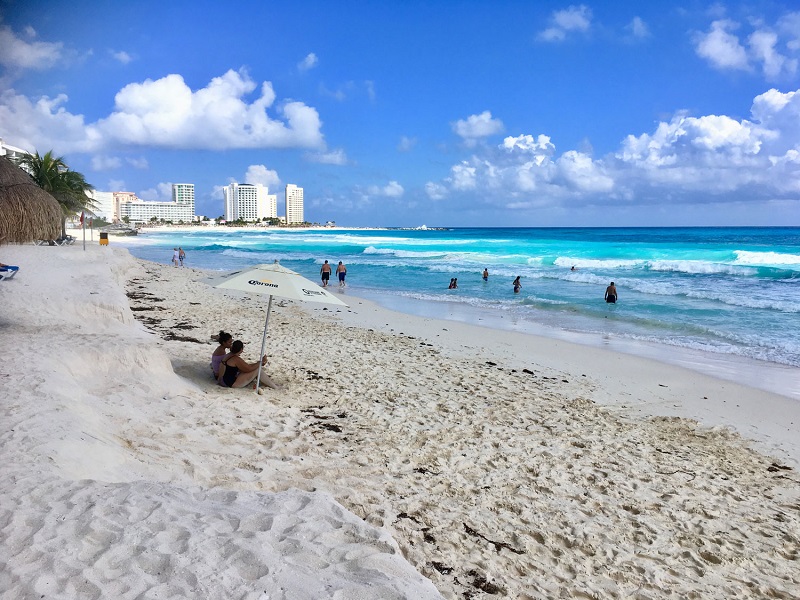 Linda Beach (Playa Linda)
Located in the Hotel Zone, Linda Beach is ideal if you like to take boat trips and want to see the famous dolphins. At one point on the beach, the sea joins with the lagoon, leaving the waters more greenish and your ride even more magical! There, you will also find La Torre Cancun, which is the famous revolving tower where you can enjoy the beautiful scenery of Cancun.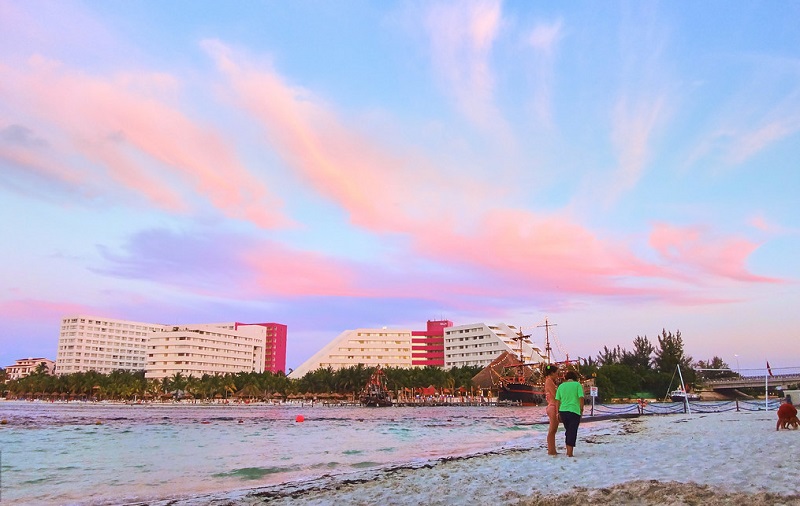 North Beach (Playa Norte)
Continuing with this tourist guide in Cancun, we will go to North Beach. You know that blue sea that makes anyone's mouth open is so beautiful and crystalline? Well, on this beach you will be faced with this scenario. In terms of structure, it is composed of: bars, restaurants and beach clubs. And, one last suggestion is to be sure to enjoy the sunset from there. It is wonderful!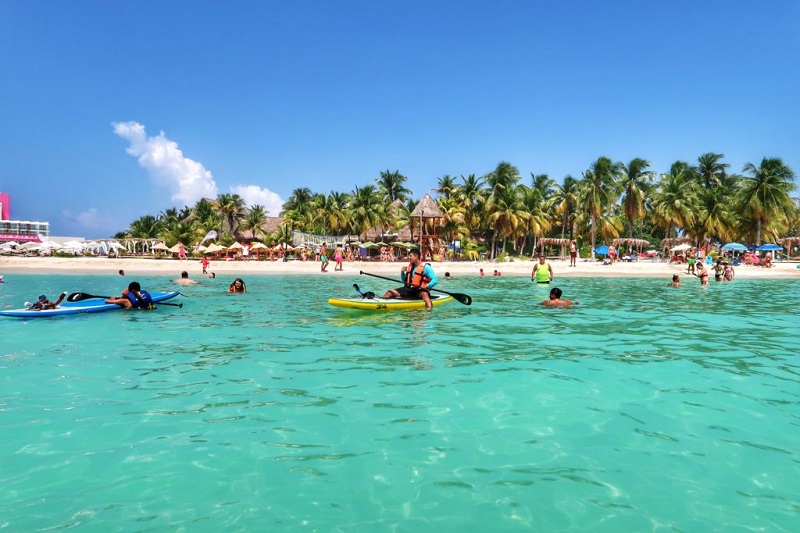 Marlin Beach (Playa Marlin)
Marlin Beach can be easily found in Cancun's Hotel Zone. With a color of turquoise blue sea, it is perfect for those who want a complete public beach. Her structure, for example, has bathrooms and showers, chairs and beach umbrellas, public parking, accessibility and more. We're sure you'll love it!!!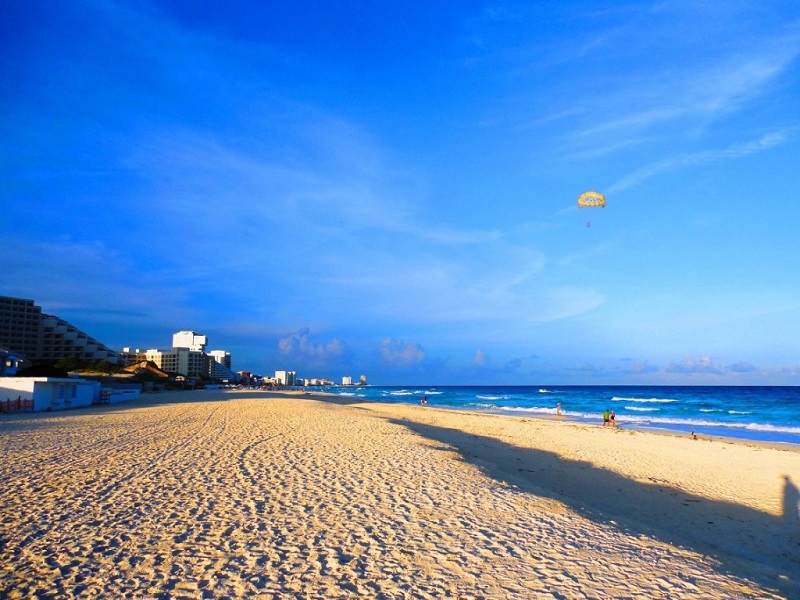 Akumal Beach (Playa Akumal)
Arriving almost at the very end of these tips on the best beaches in Cancun, be sure to also analyze Akumal Beach. This is the turtle beach. Yes, believe it if you want, there you can come across this little animal of different sizes. In addition to this marine life, at Akumal you will have shallow sea water, perfect for tours with young children, good signage through signs and shops with diving equipment. That's awesome!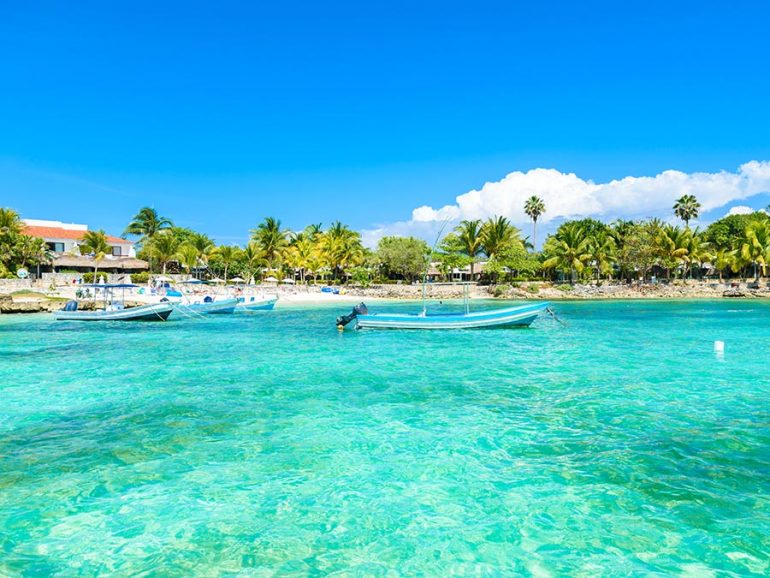 Gaviota Azul Beach (Playa Gaviota Azul)
With a super privileged location, close to Coco Bongo, she is one of the darlings of young people in this city for being in the hotspot of Cancun. With regard to the structure; it has a calm and crystal clear sea, white sand, paid parking and much more. It's awesome!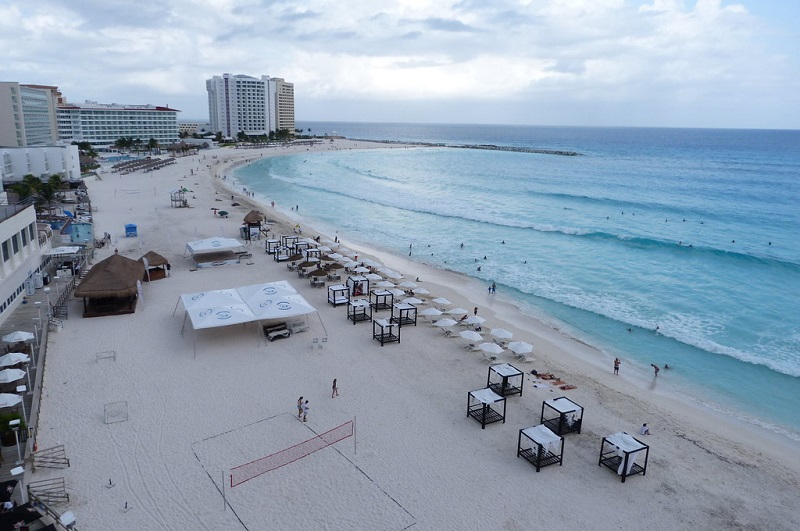 Archaeological Sites
Chichén-Itzá
As one of the seven wonders of the world, the tour to Chichen-Itzá cannot be left out of the list of best things to do in Cancun. This archaeological site will take you directly to the ancient times of the Mayan civilization, which lived where Mexico is today, between the centuries BC and 900 AD. This is an unmissable tour, because the energy of the place is simply inexplicable!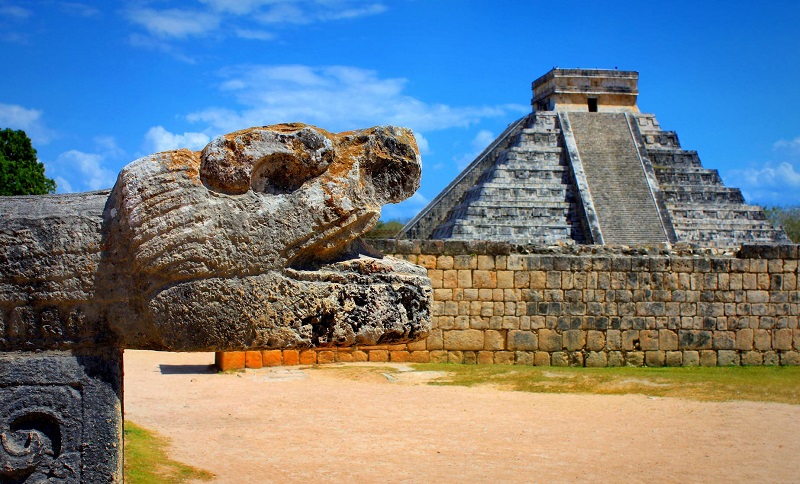 Kukulcan Pyramid
The main attraction of Chichen Itzá is the Kukulcán pyramid, where the Mayans played ball games. It is there that everyone takes thousands of photos, so take the opportunity to take yours too. They also sell a lot of Mayan handicrafts, which are worth taking as souvenirs of the trip. Visiting hours are from 8 am to 5 pm, and tickets for tours cost around 80 Mexican pesos.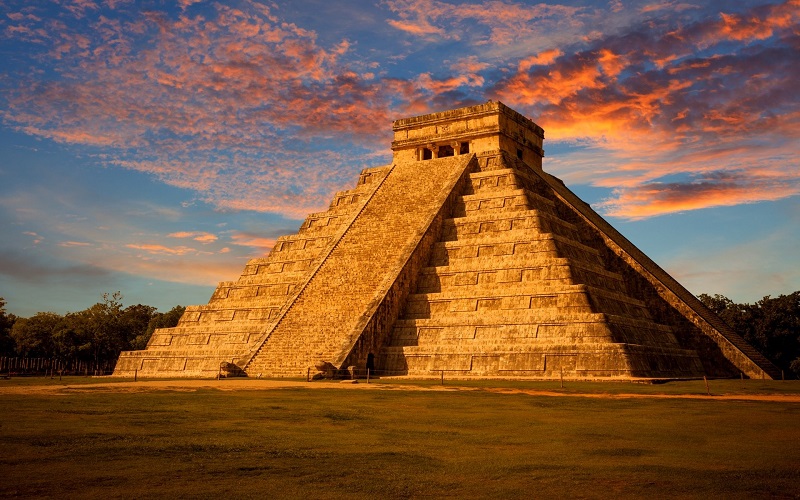 And when you go to Chichen-Itzá, don't forget to go in fresh clothes, bring a hat, sunscreen and lots of water. To get there, the best option is to rent a car, as the buses take a long time and you will have to stay within the time stipulated by them, running the risk of not being able to return if you need to. By car, it usually takes about 3 hours to travel, without any stop. But it is nice to stop and visit some tourist places.
Tulum ruins
Tulum is another archaeological site near Cancun where you can visit ruins of the Mayan civilization. At the site, there was a port city that was an important commercial hub at the time. And the view you will have of the sea is chilling!
From Cancun to Tulum are a 2-3 hour drive, which will be worth it when you arrive at your destination, since the landscape is breathtaking. The region is small, but you can enjoy eating in one of the delicious restaurants and bars in the surroundings. Good news: the ticket is cheap, it costs around 20 pesos.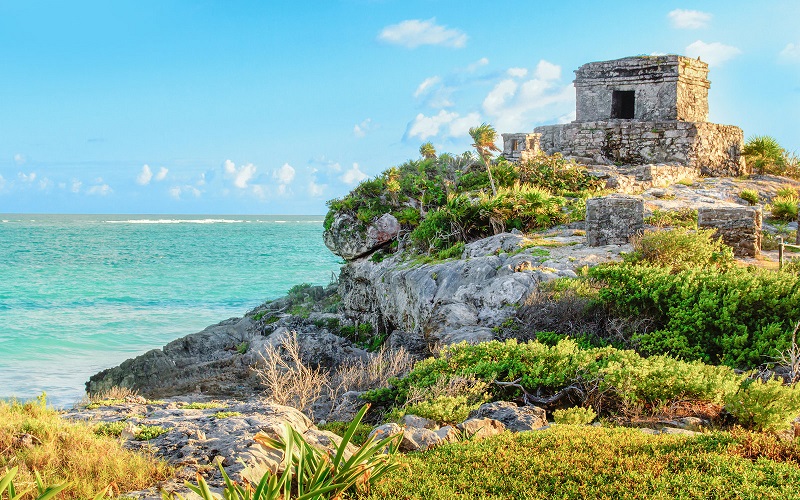 Caves and Cenotes
For nature lovers, this tour will be paradise! The crystalline water caves that were used by the Mayans in their rituals carry a renewing energy! There, you will feel close to the culture and beliefs of these people. There are several cenotes in the Cancun region, some of which have lakes with warm waters, perfect for relaxing. The most famous are:
Dos Ojos
Casa Cenote
Gran Cenote
Jardín del Eden
Yokdzonot
Chac Mool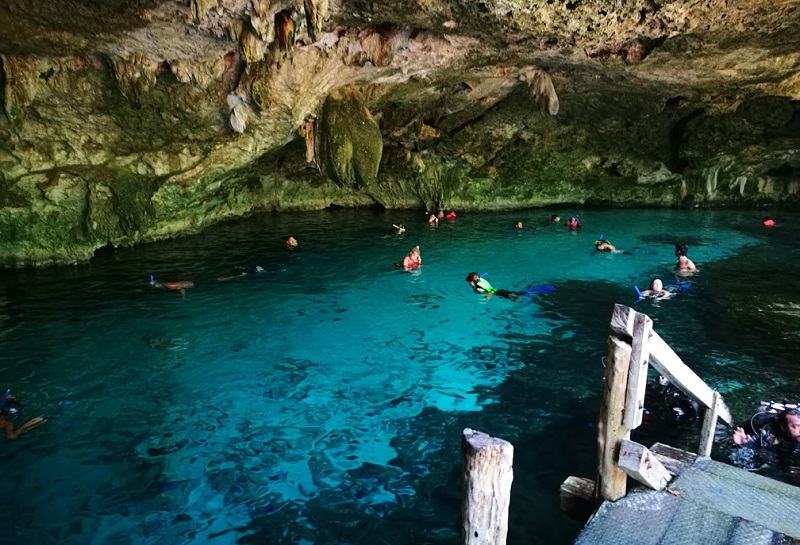 Pyramid of Cobá
Cobá, like Tulum and Chichén Itzá, is one of the memories of the Mayan civilization. The city was abandoned for many years, and because of that, the bush covered most of the ruins, giving an even more rustic and old look to the place.
The main attraction of the ancient Mayan city is the Nohoch Mul pyramid, which is 42 meters high, 12 more than that of Chichén Itzá. However, there are other remnants of impressive ruins scattered around the site that you can access by bike, walking or even taxi.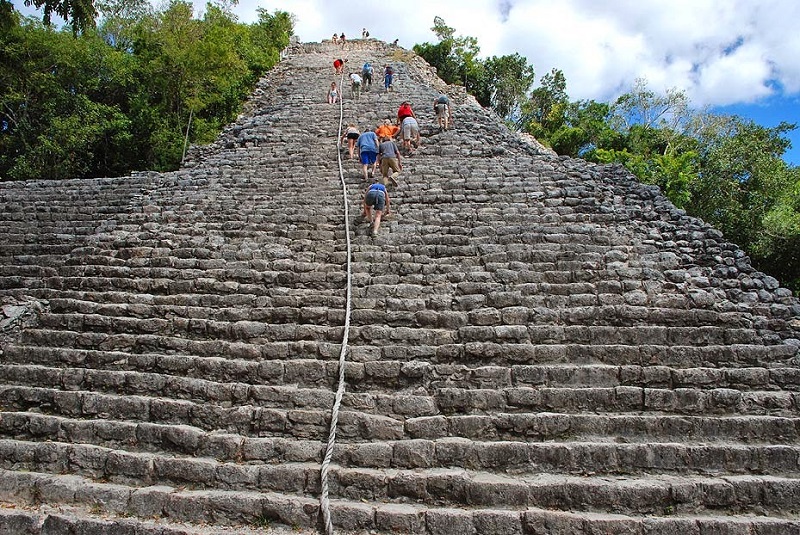 Xcaret Park
Xcaret is a park and nature reserve where you can see and get close to wild animals that are loose in the woods, a ride that children will definitely love! There, several trails are offered, the main one being that it travels an underground river using vests and masks to dive with the fish. In addition, the park has aquariums, SPA and diving groups.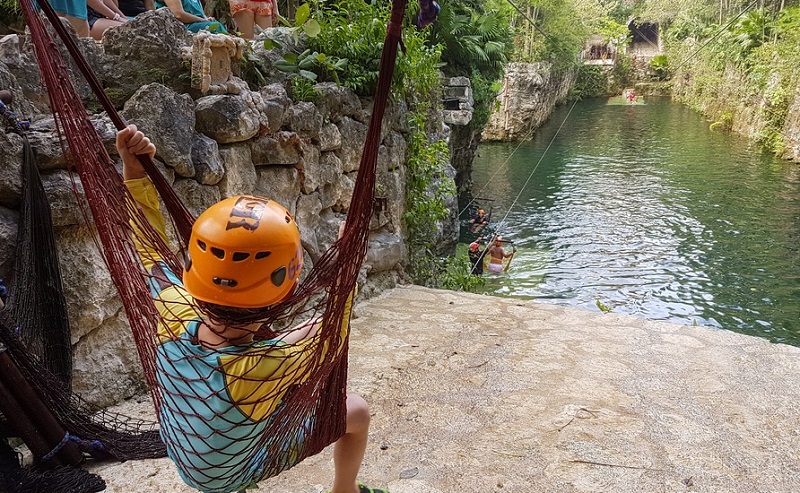 By paying the Plus entry, you are entitled to lunch and other facilities. And if you think that the tour ends when the sun goes down, you are very wrong! At night, the park hosts various events and shows for its visitors! The place is beautiful and worth including on your list of the best tourist attractions in Cancun.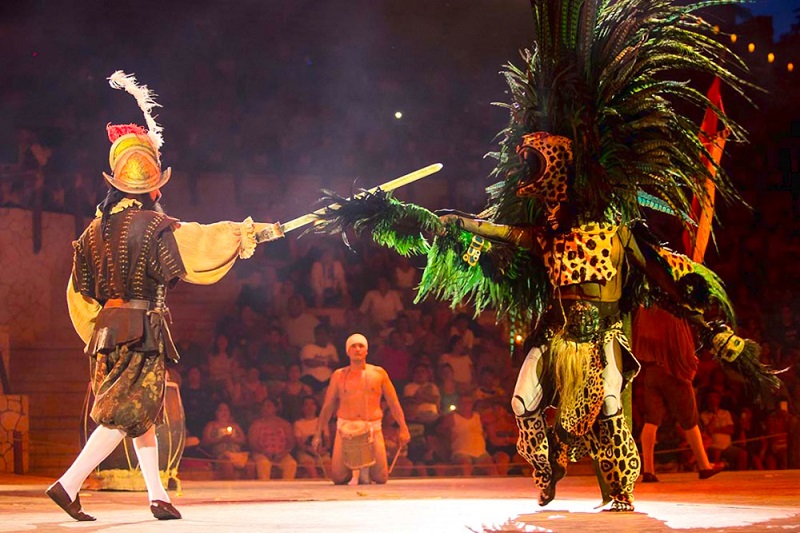 Isla Mujeres
Very close to Cancun is the famous Isla Mujeres, a small island paradise that is very popular with tourists who want to be close to nature and discover new Caribbean beaches. There, you can either relax or enjoy more exciting activities, such as diving, parties, parks and the underwater museum.
There are several boat trips with parties and stops to dive with the animals. To get to the island, you need a boat. All hotels sell this tour, which is worth including on your list of the best tourist attractions in Cancun. In the center of the island you can walk and take the opportunity to do some shopping at the local stores, or even have lunch at the various rustic and charming restaurants and bars.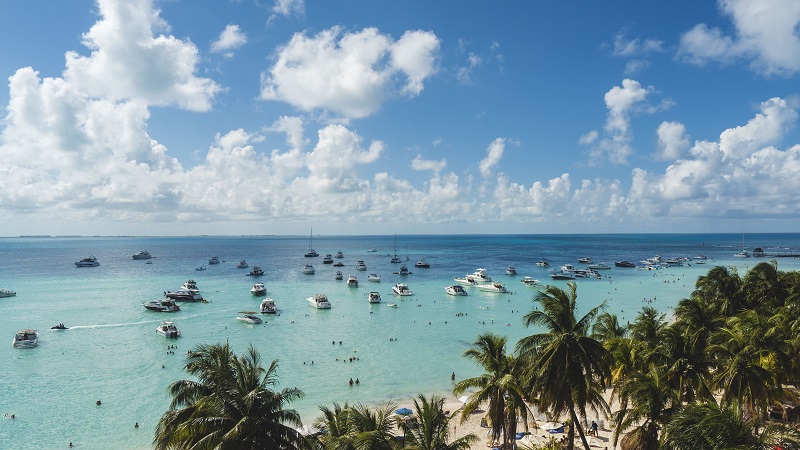 Underwater Museum of Art
The Underwater Museum of Art is an impressive underwater art museum! Located next to the National Marine Park of Cancun, between the coast of Isla de Mujeres, Punta Nizuc and Cancun, it was opened in 2009 and since there receives almost 1 million visitors every year who seek to know this unique museum underwater in the Mexico. There are more than 500 sculptures located between 3 to 6 meters in depth.
The facilities occupy an area of approximately 420 m² and weigh more than 200 tons. Local artists include Jason de Caires Taylor and Karen Salinas Martínez. Among the works of art exhibited at the Underwater Museum of Art in Cancun are several statues of human beings that represent the native population of the region at various times in their daily lives.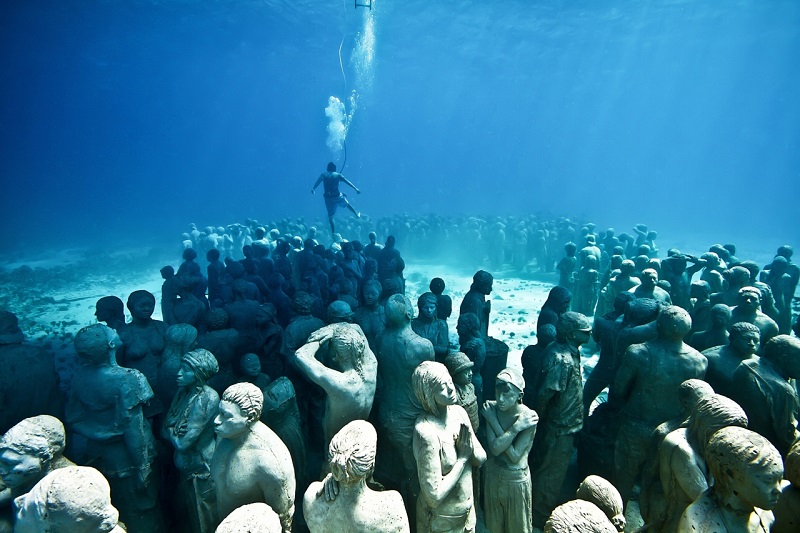 Garrafón Natural Reef Park
You can also choose to spend the day at Garrafón Natural Reef Park, where you will have the chance to dive in the sea, enjoy the pool, zip line and kayak or relax on the sun loungers and hammocks that are scattered in the park. Normal admission costs an average of US$ 90 per person, including the activities we mentioned and also breakfast, buffet lunch, alcoholic and non-alcoholic drinks, showers, lockers, snorkel equipment and transportation to and from Cancun.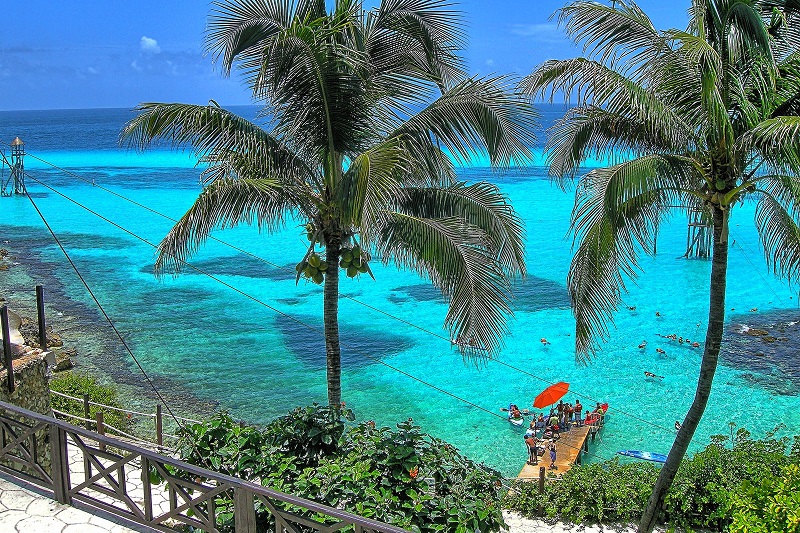 Cozumel Island
Cozumel Island is one of those breathtaking attractions that is so beautiful. Located near the Carmen Beach, it is sought after by visitors from all over the world looking for water activities. Some of those that stand out in this region are: snorkeling, swimming with dolphins, boat trips etc. If you also want to enjoy some shopping there, know that there are several local shops very graceful. For those who want to have a unique gastronomic experience, the restaurants and bars in the region are very attractive!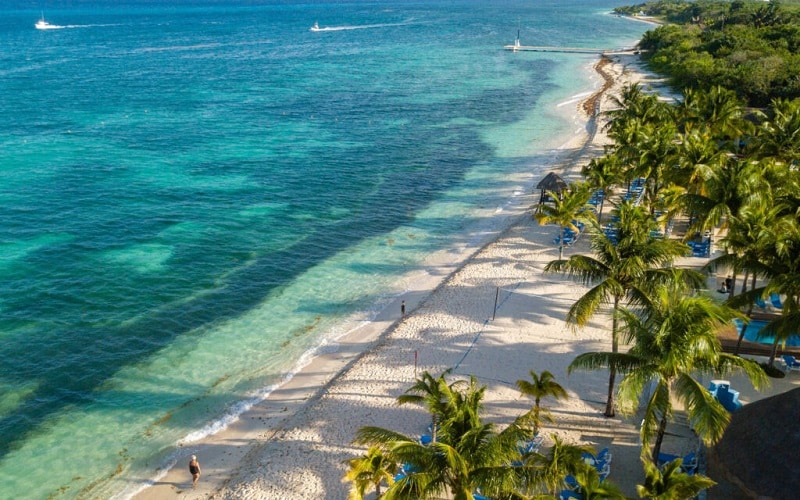 Secret River
This is the ideal tour for nature lovers! It is an underground river about 600 meters long, located in Riviera Maya. Open to the public in 2009, this is still not one of the most popular tourist attractions for those who go to Cancun, however it is a simply wonderful tour! The place is also known as a crystal museum, precisely for the opportunity to walk in the crystal-clear and blessed waters of the river, also sacred to the then citizens of the Mayan civilization. That's awesome.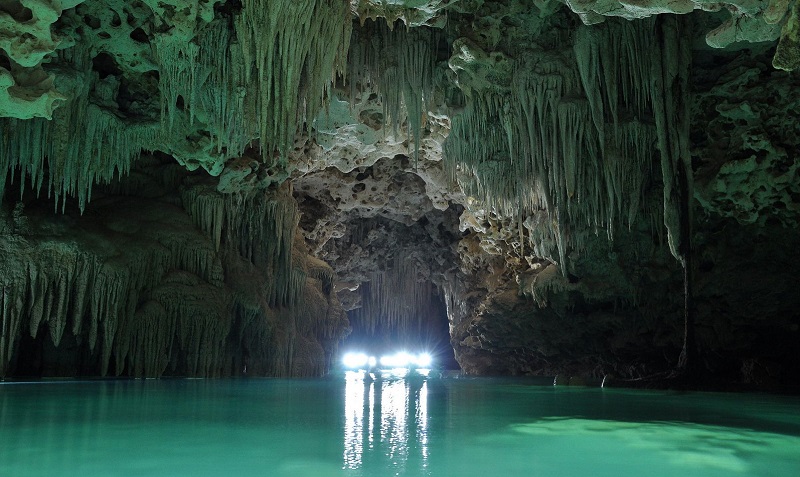 Xel-Há Park
Are you looking for fun in the middle of nature? So, you found your tour ideal! The Xel-Há park is one of the most popular places for those who go to Cancun because it is an open air park, which offers natural pools, diving excursions, fun slides, among other incredible attractions.
Located in the center of Riviera Maya, the park is a nature reserve, so don't be surprised when you encounter wild animals throughout the day. Generally, buffet breakfast, lunch, snacks throughout the day, exclusive locker and diving equipment are included in the ticket. If you want, there is also the possibility to enjoy an afternoon of SPA or even play with the dolphins.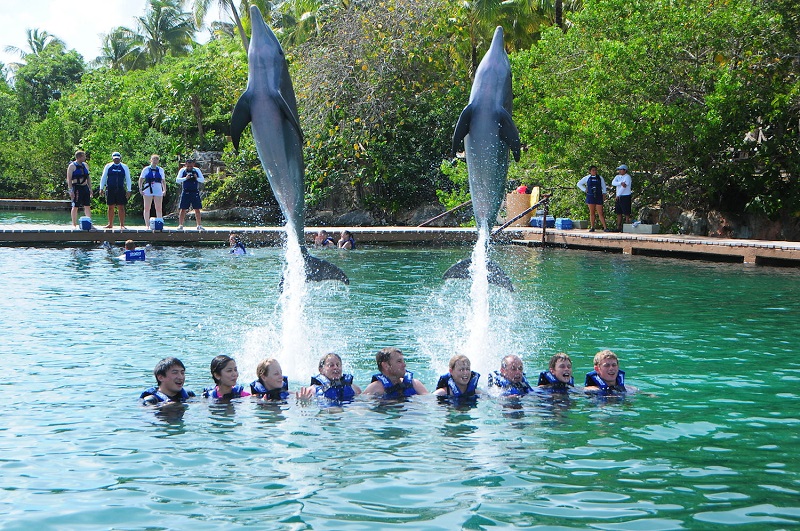 Church of the resurrected Christ
You don't have to be religious to visit this parish. This church built in 1995 is beautiful and modern, and will make you shiver the moment you set foot in it. The place has an atmosphere of peace and serenity, and tourists, most of the time, love this tour.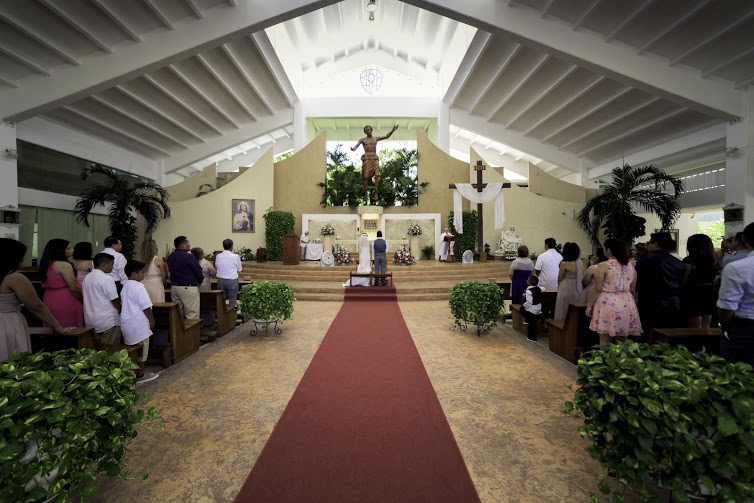 Coco Bongo
This is a must-see tourist attraction in Cancun for those who enjoy a lively nightlife. Beautiful, with a surprising atmosphere and a lot of animation, this nightclub is different from the others because it was already the scene of a very famous movie, "The Mask", recorded in 1994 and starring the actor Jim Carrey. The cool thing is that Coco Bongo offers: artistic shows, open bar (with diversified drinks), special lighting, shows, lively employees and a very young audience.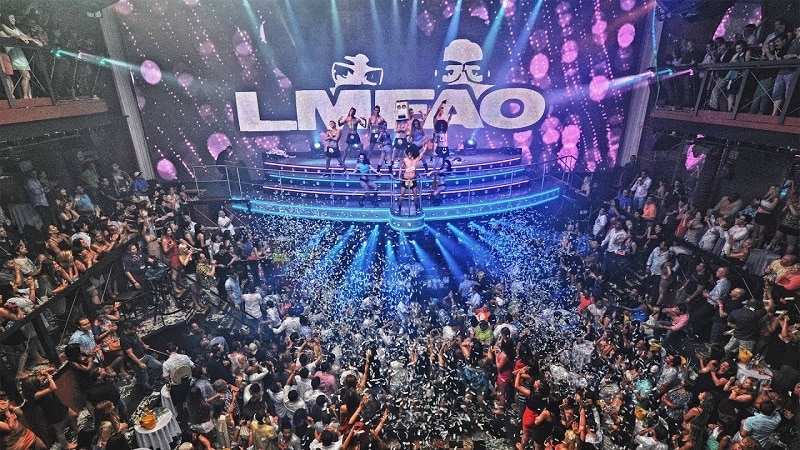 Important tips to enjoy much more your trip to Cancun
Now that we have given you all the tips about the best tourist attractions in Cancun, here are some more suggestions that will make your trip even better. Cancun is a big city and its tourist spots and beaches are concentrated in some regions, so being well located makes all the difference. If you haven't already booked your hotel, be sure to check out our article Where to stay in Cancun, with tips from the best regions and also how to get a great hotel at a great price (and find all inclusive hotels and resorts on sale).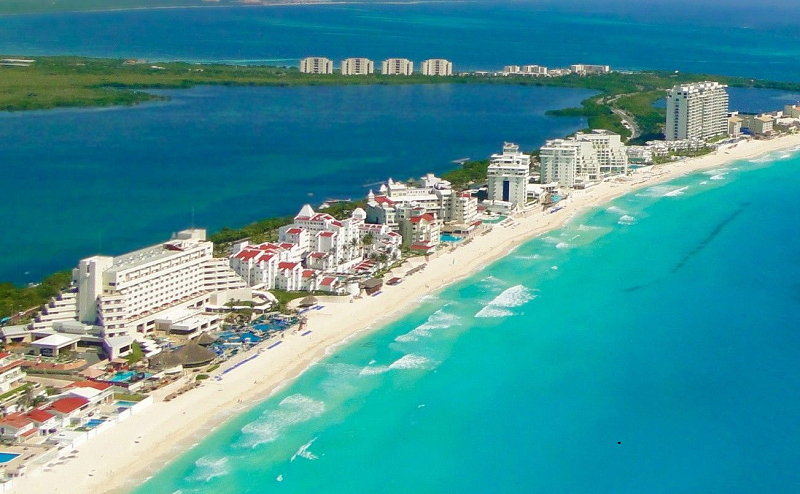 Another good tip is that many people think it is not worthwhile to rent a car in Cancun, but it all depends on how your trip will be. If you are staying at the hotel every day, it really is not worth it. But, if you are going on tours, want to go to shopping malls and tourist spots, they are all a little bit apart and the car is great for getting around.
Even in the hotel zone that has everything there, the distance between the points is great, and without the car you need to take a taxi or public bus. With the car, you have more comfort and freedom, not to mention the economy, because with the value of the transport that you will spend from the airport to the hotel and vice versa, you have already paid the rent of a car for almost 5 days. If you want to know all the tips on the subject and how to get incredible prices, see our full article about how to rent a car in Cancun.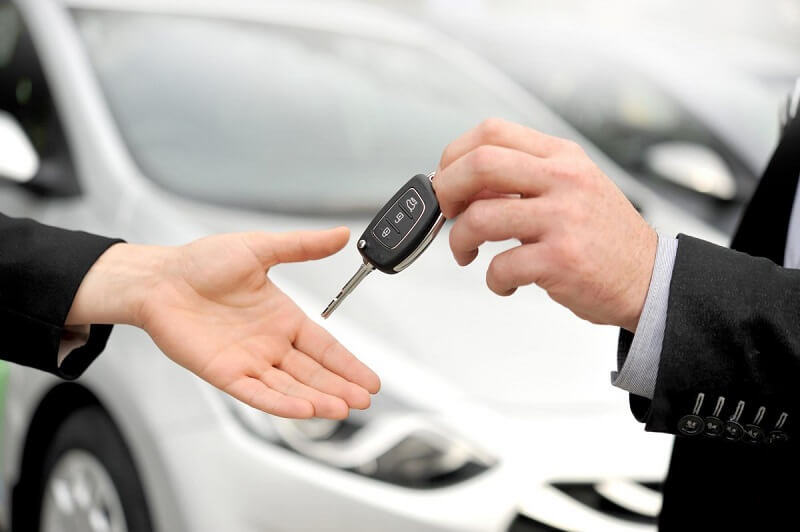 Where to buy the cheapest tickets for tours and tourist attractions in Cancun
A good suggestion to save money is to buy tickets, tours and excursions in advance online. It costs a lot less and you don't waste time in lines there in Cancun. We have done a lot of research and the site that always has the best prices is this Cancun tickets website. They are the biggest tours tickets website in the world.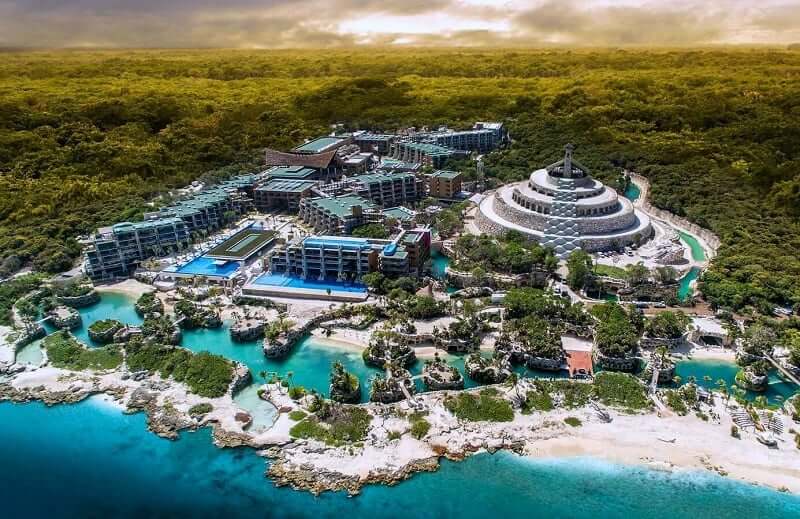 The unmissable tours that cannot be left out of your trip in any way are: the excursion to Isla Mujeres, excursion to X-Caret or Xel-Há (two incredible natural parks), the Coco Bongo party and the excursion to Chichén Itzá, which is one of the seven wonders of the world. It also has the swim with dolphins which is incredible. Virtually all tours pick you up at your hotel and drop you back there.
Don't forget about travel insurance to Cancun
Another tip is to not forget to take international travel insurance to Cancun, as it is very important and no one should leave the country without one. If you want, read our article about travel insurance for Cancun and see tips on how to get good insurance at an incredible price. It is super cheap and very worth it.
How to use your cell phone in Cancun
Being able to use the Internet from your cell phone in Cancun is very worthwhile. The tourist attractions, restaurants, shopping malls and beaches have great applications. In addition, you save by not having to rent a GPS for the car with the rental company, you can search the addresses and times of the places, see the weather forecast to plan for the tours and beaches, stay connected with everyone through applications and post your photos of Cancun on social networks.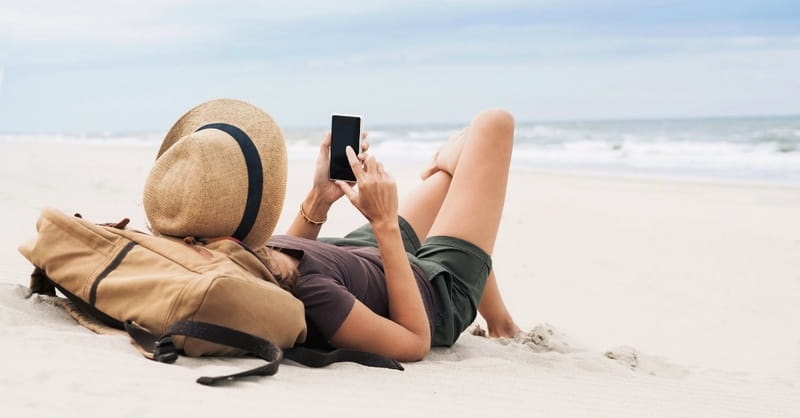 If you want, see all our tips to use your cell phone in Cancun. It's super cheap and you'll be able to use your cell phone all day and anywhere. And, you can also search all about the best tourist attractions in Cancun for when you're there.
Other must-see articles from Cancun: