Do you need tips for best things to do in Cancun with kids? We have selected some unmissable tours to do with the children. This city offers incredible attractions for all ages, so don't worry about how to entertain your kids, as there will be plenty of options during your trip. You will be able to have fun in the water parks, go diving with the dolphins, have dinner with the captain hook and much more!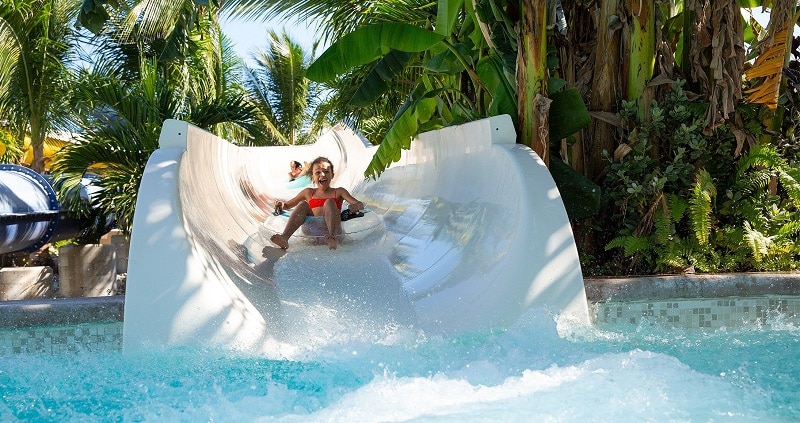 After reading this article, check out our tips about how to save a lot of money on your trip to Cancun. It is the most accessed article on our blog and will help you a lot with all the trip planning. There are several unmissable tips that will save you A LOT of cash and set up your entire trip to Cancun.
Xcaret Park to go with kids in Cancun
Choose at least one day of your trip to enjoy one of Cancun's parks. One of the most sought after and famous is Xcaret, located in Carmen Beach. Children are hooked on the park's attractions, some of which are:
natural pools
wild animals (which are free in the park)
snorkel dives
aquarium
swim with dolphins
By paying the Plus entry you are entitled to lunch and other facilities. And if you think that the tour ends when the sun goes down, you are very wrong! At night, the park holds various events and shows for its visitors! Ticket prices may vary depending on the package you choose. And, children under 59 centimeters or under 4 years old enter for free.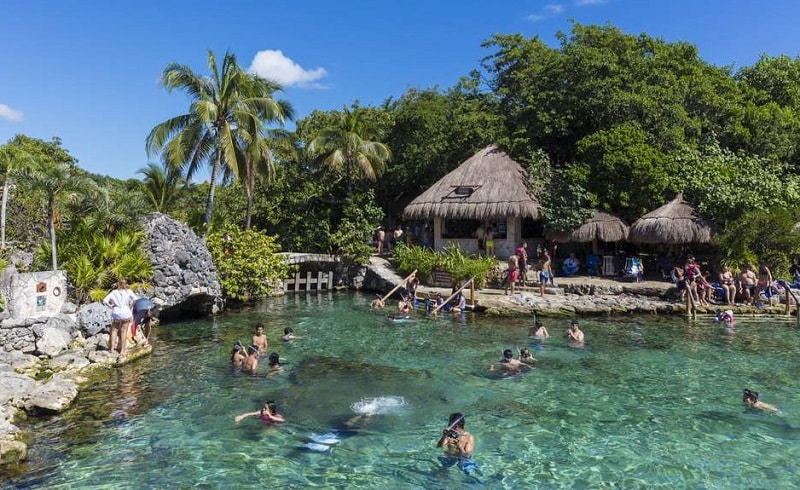 Xel-Ha Park to go with kids in Cancun
Considered one of the greatest natural wonders in the world, Xel-Há Park is located right in the heart of the Riviera Maya, just minutes from Cancun. Among the highlights of this attraction, one that is very cool is the fact that it is all inclusive, so expect to find there:
amazing restaurants
many water and ecological activities
adrenaline rides and tours
river for snorkeling dives and other attractions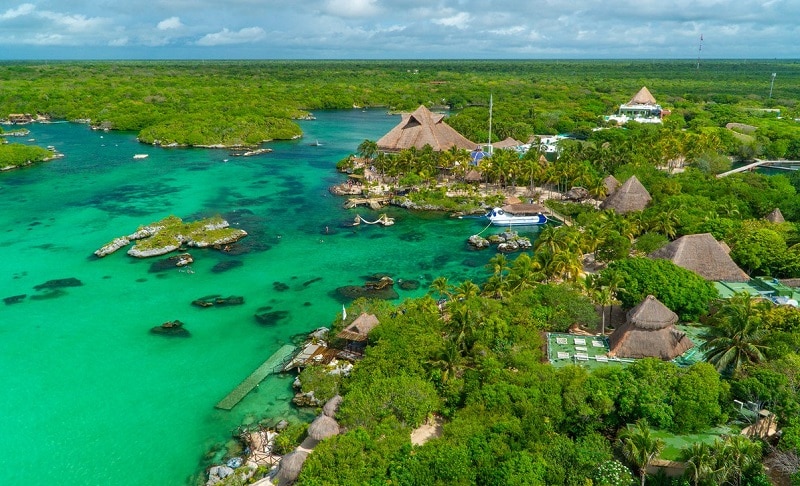 Garrafón Natural Reef Park to go with kids in Cancun
You can also choose to spend the day at Garrafón Natural Reef Park. There, it will be possible to:
dive in the sea
enjoy the pool
enjoy zip lining and kayaking
relax on the sun loungers and hammocks
Normal admission costs an average of US$ 90 per person, including the activities we mentioned, breakfast, buffet lunch, alcoholic and non-alcoholic drinks, showers, lockers, snorkel equipment and transportation to and from Cancun. The VIP ticket costs an average of US$ 110 per person and includes all items and a few more perks, such as a differentiated lunch, imported drinks, towels, a bicycle and a VIP area with a hot tub.
Captain Hook's boat dinner to go with kids in Cancun
You can't miss dining with the kids on Captain Hook's boat! In addition to enjoying a delicious meal, you will have a lot of fun with the pirates show, games and scavenger hunts that are held inside the boats, which are faithful copies of the Spanish galleons of the 18th century. Everything to make you really feel on a pirate ship!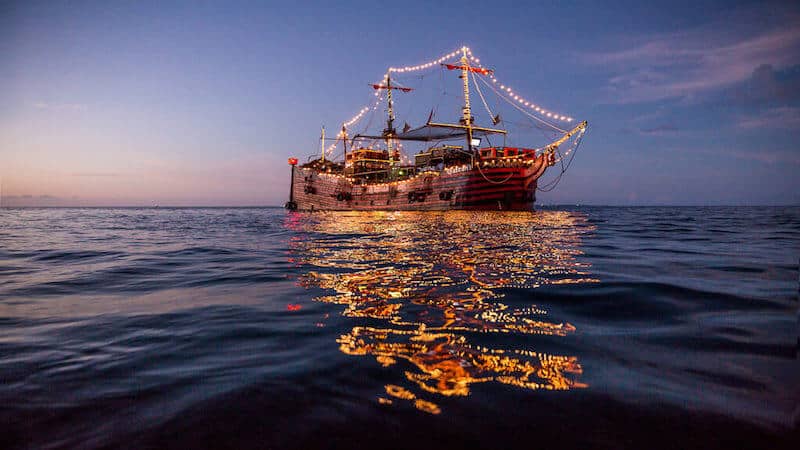 Right away, you will be greeted with delicious Caribbean drinks. Then, you will enjoy a beautiful meal, which can be chicken, steak, lobster, among other dishes. This promises to be one of the most fun nights for both children and parents. The tour departs from the Hotel Zone, next to the Oasis Palm Beach hotel, and lasts about 3h30. Dinner costs around US$ 70.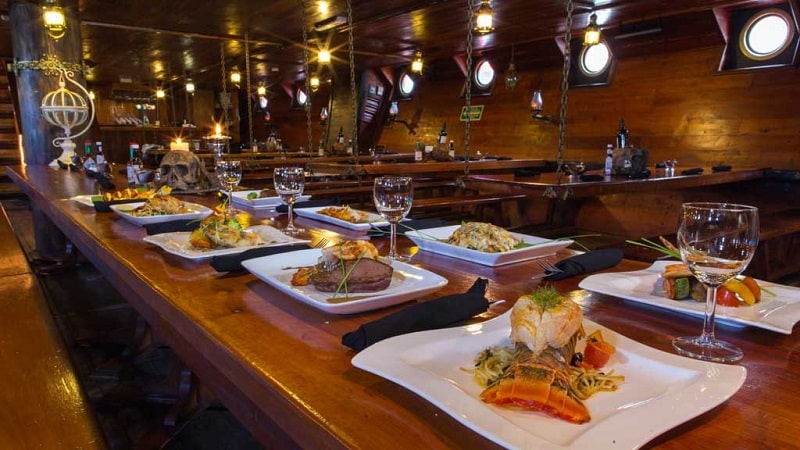 All-inclusive hotels with kids in Cancun
For kids, there will be plenty of attractions at all-inclusive hotels in Cancun, which are always a safe option for little ones. We can cite two examples of hotels that are highly recommended for taking children:
Sandos Caracol Riviera Maya: where children can play in the hotel's water park and at night spot the coatis and raccoons that are loose in the surroundings;
Hard Rock: where the little ones will have a lot of fun at the Kids Club and there will be plenty of options for teenagers to enjoy as well.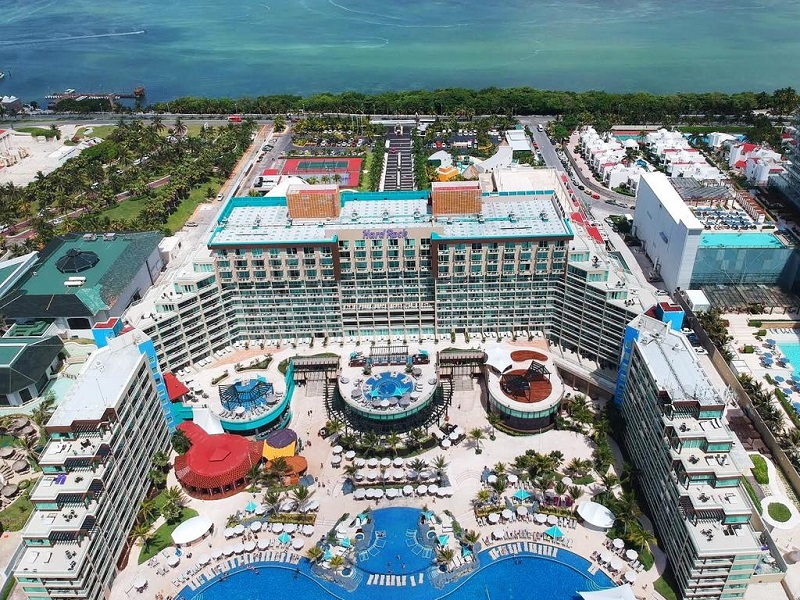 How to find great hotels and resorts at unbeatable prices in Cancun
A great tip for finding great hotels and resorts all-inclusive with incredible prices, in the region you want and save a lot on lodging in Cancun is to use this Hotel Search Engine in Cancun. We always use it as it is the largest hotel booking site in the world and therefore it is the best place to book with confidence and security.
Not to mention that it has all the hotels and resorts in Cancun and the world in his research and unbeatable prices due to the strong negotiation they do with the hotels. We always make our reservations there so we don't have any problems and we always save a lot, especially in the Caribbean.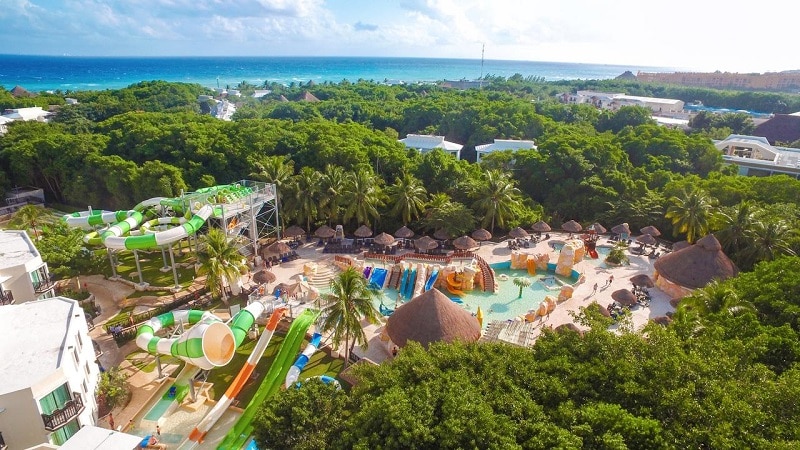 Another very good tip is that this search engine has a very strong partnership with the establishments and they offer free cancellation with almost all hotels. This is great, because the factor that will save you the most in hosting is the advance. This is the most important tip.
The sooner you make the reservation, you can be sure that the cheaper you will pay. So, you can book your hotel now, to guarantee the lowest price, and if you find a better one afterwards or don't want to stay in it, just cancel for free.
Aquarium of the La Isla mall to go with kids in Cancun
La Isla mall is already a great walk to do with the whole family. But, if you want to take the kids to enjoy something different, we recommend the aquarium that works inside this shopping center and that houses several species of marine animals, in addition to offering a dolphin show! And, the best part is that afterwards you can go for a walk in the mall to do some shopping. This is a great tour to put on the list of the best things to do in Cancun with kids.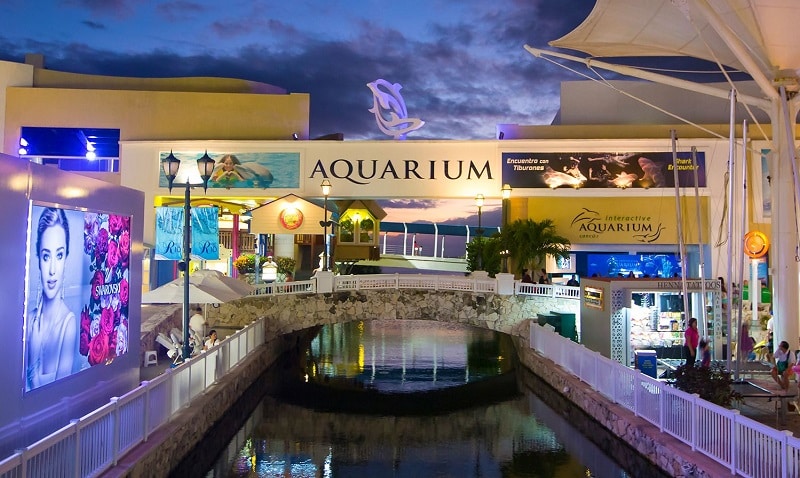 Swim with dolphins to go with kids in Cancun
This will always be a wonderful option not only for children, and the best part is that several places in Cancun offer these dolphin tours. One of the most famous is at Delfines Beach, which is a public beach in the city. You can also look for a place that specializes in this type of activity, such as Dolphin Discovery and Delphinus Xcaret. But, tickets can be a bit salty, costing at least US$ 150.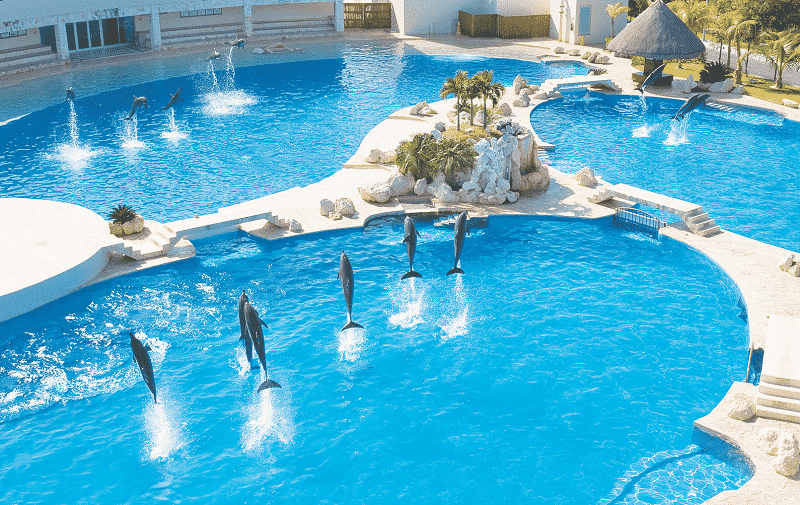 Submarine on the Cozumel Island to go with kids in Cancun
Enter this adventure with your whole family and board this submarine that will take you to discover the depths of the Caribbean. In this tour, you will come across as:
2nd largest coral reef
fishes
lobsters
rays
sharks
turtles
The submarine on the island of Cozumel in Cancun will also take you to meet the ship Felipe Xicotencatl, which was shipwrecked in 2000; United States Navy ship, which was sold to the Mexican Navy in 1962; and the Shipwreck, which is about 70 meters deep and today has become a shelter for many fish and corals. You will also be able to choose the package in which at the end of this adventure you will disembark at a resort, being able to dive and ride a buggy to get to know the island.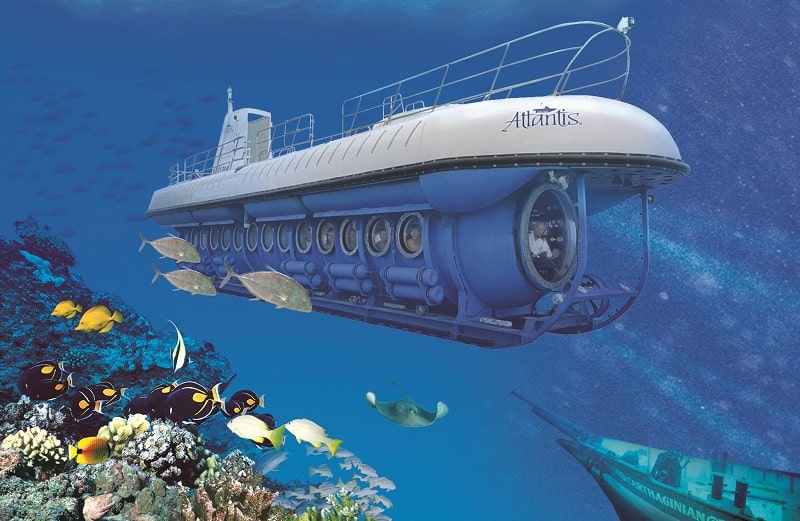 Beaches with kids in Cancun
Following with this guide to the best things to do in Cancun with kids, it is clear that we cannot leave out the magnificent beaches of this city. The atmosphere that Cancun's beaches offer families traveling there is the best possible: crystal blue sea, soft sand, lots of infrastructure and varied activities. Here are some of our indications of the best beaches in this destination:
Delfines Beach
Tortugas Beach
Langosta Beach
Punta Cancun Beach
Chac Mool Beach
Linda Beach
North Beach
Akumal Beach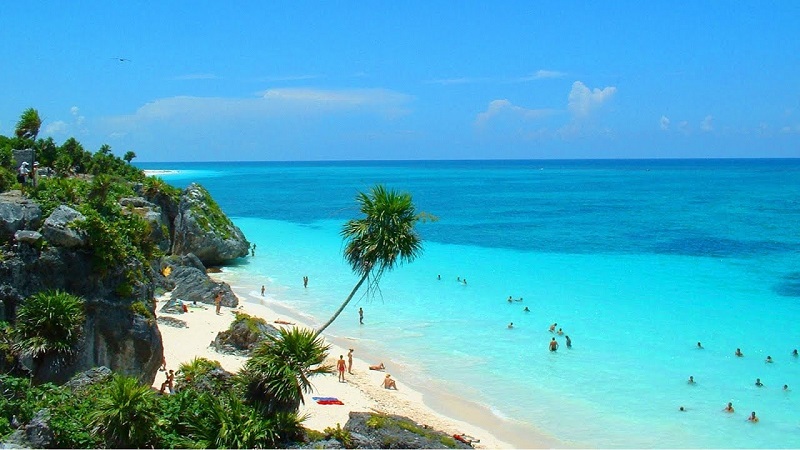 Important tips to enjoy much more your trip to Cancun
Now that we have given you all the tips about the best things to do in Cancun with kids, here are some more suggestions that will make your trip even better. Cancun is a big city and its tourist spots and beaches are concentrated in some regions, so being well located makes all the difference. If you haven't already booked your hotel, be sure to check out our article Where to stay in Cancun, with tips from the best regions and also how to get a great hotel at a great price (and find all inclusive hotels and resorts on sale).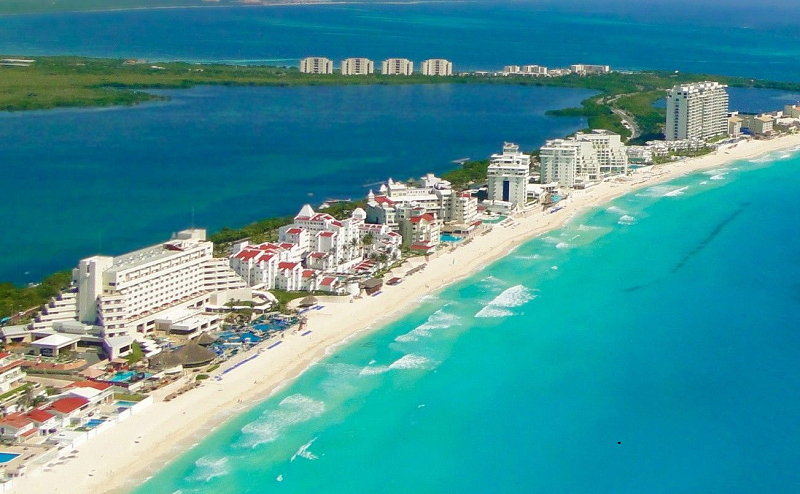 Another good tip is that many people think it is not worthwhile to rent a car in Cancun, but it all depends on how your trip will be. If you are staying at the hotel every day, it really is not worth it. But, if you are going on tours, want to go to shopping malls and tourist spots, they are all a little bit apart and the car is great for getting around.
Even in the hotel zone that has everything there, the distance between the points is great, and without the car you need to take a taxi or public bus. With the car, you have more comfort and freedom, not to mention the economy, because with the value of the transport that you will spend from the airport to the hotel and vice versa, you have already paid the rent of a car for almost 5 days. If you want to know all the tips on the subject and how to get incredible prices, see our full article about how to rent a car in Cancun.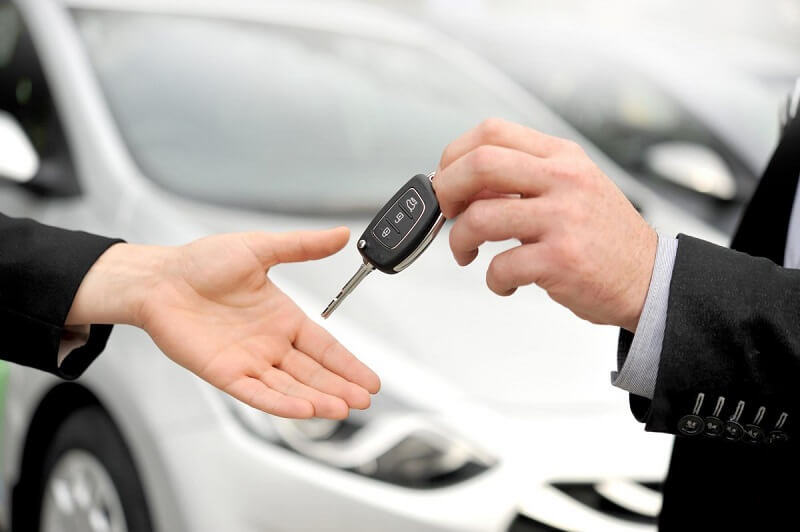 Where to buy the cheapest tickets for tours and tourist attractions in Cancun
A good suggestion to save money is to buy tickets, tours and excursions in advance online. It costs a lot less and you don't waste time in lines there in Cancun. We have done a lot of research and the site that always has the best prices is this Cancun tickets website. They are the biggest tours tickets website in the world.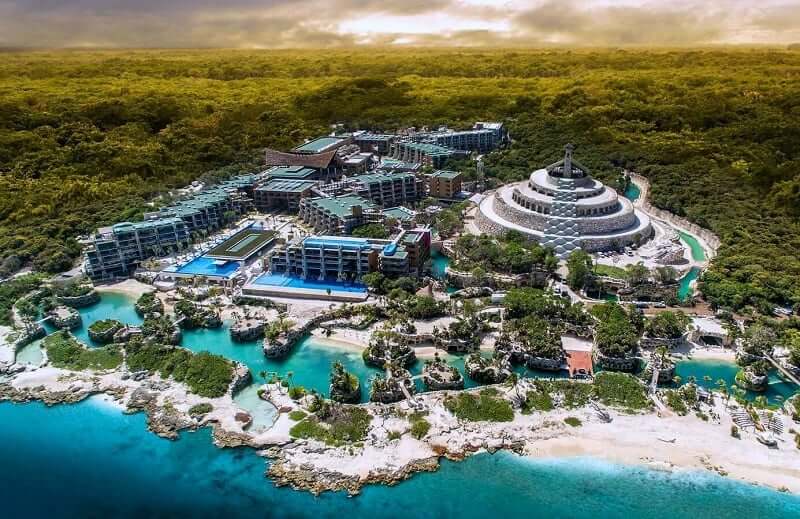 The unmissable tours that cannot be left out of your trip in any way are: the excursion to Isla Mujeres, excursion to X-Caret or Xel-Há (two incredible natural parks), the Coco Bongo party and the excursion to Chichén Itzá, which is one of the seven wonders of the world. It also has the swim with dolphins which is incredible. Virtually all tours pick you up at your hotel and drop you back there.
Don't forget about travel insurance to Cancun
Another tip is to not forget to take international travel insurance to Cancun, as it is very important and no one should leave the country without one. If you want, read our article about travel insurance for Cancun and see tips on how to get good insurance at an incredible price. It is super cheap and very worth it.
How to use your cell phone in Cancun
Being able to use the Internet from your cell phone in Cancun is very worthwhile. The tourist attractions, restaurants, shopping malls and beaches have great applications. In addition, you save by not having to rent a GPS for the car with the rental company, you can search the addresses and times of the places, see the weather forecast to plan for the tours and beaches, stay connected with everyone through applications and post your photos of Cancun on social networks.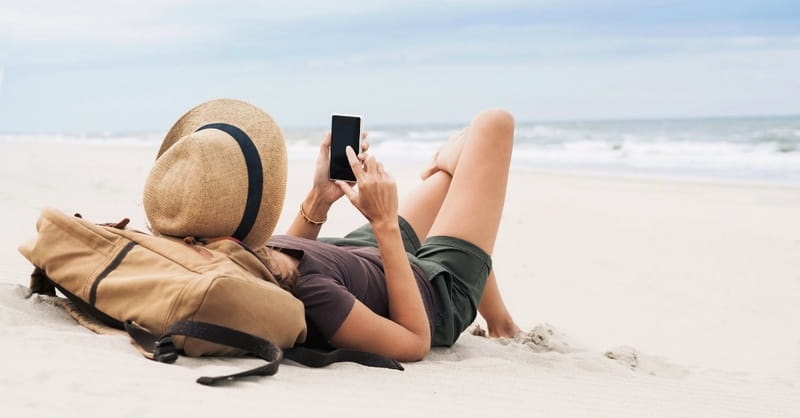 If you want, see all our tips to use your cell phone in Cancun. It's super cheap and you'll be able to use your cell phone all day and anywhere. And, you can also search all about the best things to do in Cancun with kids for when you're there.
Other must-see articles from Cancun: