See tips of the best hotels in Cancun. Find out which hotels offer the most luxury, quality, comfort and fun for your stay in the Mexican city. Cancun is a city in Mexico that is home to a huge diversity of hotels, from the most luxurious and all-inclusive to the traditional and simple. If you are on a very low budget, want to stay in a mega chic hotel with all the possible benefits, then follow this article and see 3 amazing tips from some of them.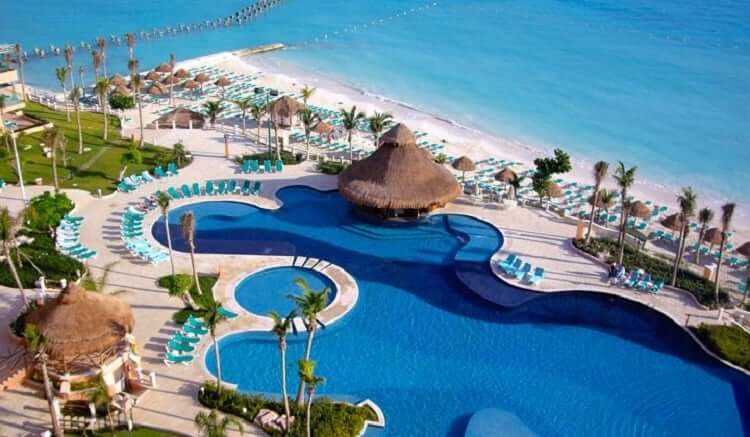 After reading this article, check out our tips about how to save a lot of money on your trip to Cancun. It is the most accessed article on our blog and will help you a lot with all the trip planning. There are several unmissable tips that will save you A LOT of cash and set up your entire trip to Cancun.
Le Blanc Spa Resort All-Inclusive in Cancun
The initial suggestion of the best hotels in Cancun is the magnificent Le Blanc Spa Resort. Very well located there, more precisely on a private beach, this is a hotel/resort that has everything you need in one place. There, you have a structure of approximately 5 hectares, which provides its visitors with a series of services and advantages that are breathtaking. Regarding the facilities of this hotel, you have: yoga and pilates classes, state-of-the-art gym, sauna, 3 outdoor swimming pools, restaurant and bar with the best gastronomic options and much more.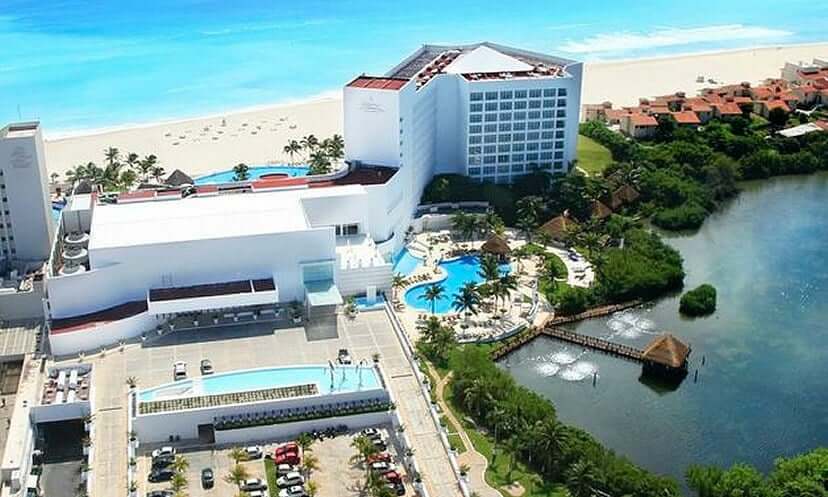 For anyone wondering about Le Blanc's amenities, it's not surprising, they are spectacular. In the rooms of this hotel, you will have at your disposal: Flat screen TV, minibar, coffee areas, bathrobes, slippers, air conditioning, free Wi-Fi and others. In summary: it is super worthwhile to place this hotel at the top of your list of the tips of the best hotels in Cancun for several reasons: location, services offered, practicality, benefits and advantages and much more. Enjoy and make your reservation by clicking here.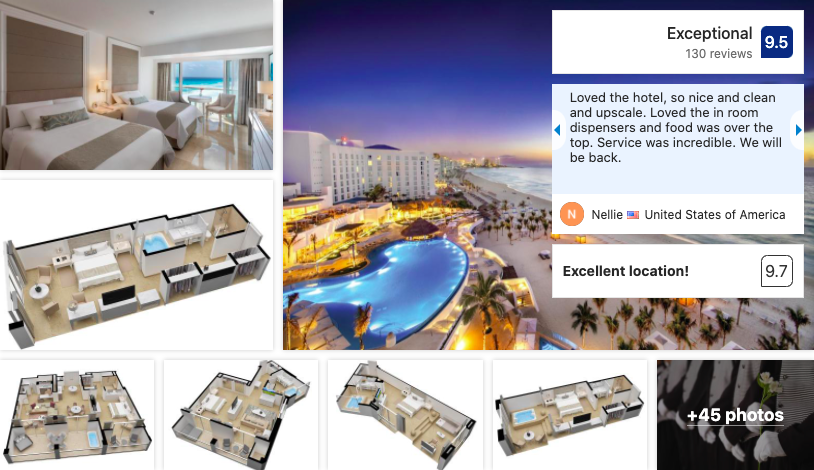 Resort Hyatt Zilara All-Inclusive in Cancun
The second tip of the best hotels in Cancun could not but be the Hyatt Zilara All-Inclusive Cancun Resort. As the name implies, this is an all-inclusive hotel, that is, it has 3 meals a day included in the package. In addition, there you have: a breathtaking view of the entire Caribbean sea, Spa, several activities for leisure and entertainment, outdoor swimming pools, super modernized gym, private beach area, restaurant with excellent gastronomic options, diving classes , wine tasting, shows, night parties and more.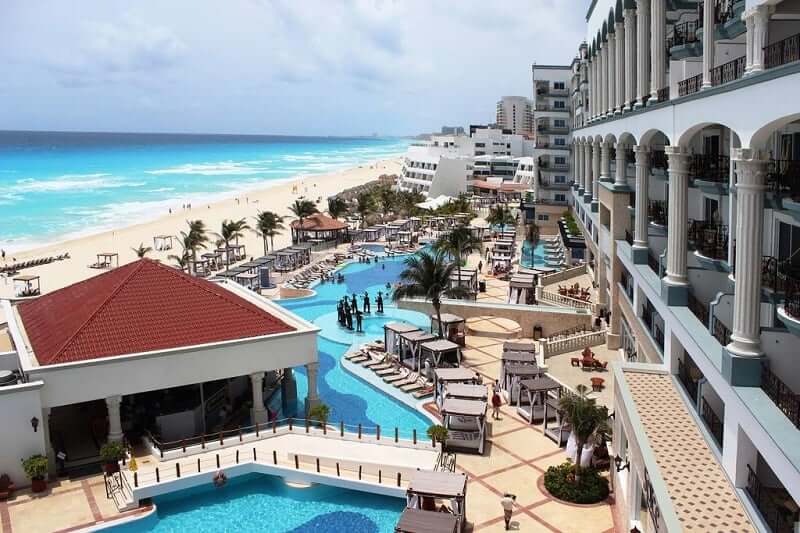 When it comes to accommodations, the Hyatt Zilara is also a delight, with the most luxurious and comfortable rooms imaginable. Some important points are that they have: totally privileged view, free Wi-Fi, air conditioning, safe box, room service, bathrooms with excellent showers and much more. This, without a doubt, is one of the best options for accommodation in Cancun. Take the opportunity to learn more about it and make your reservation there by accessing the link.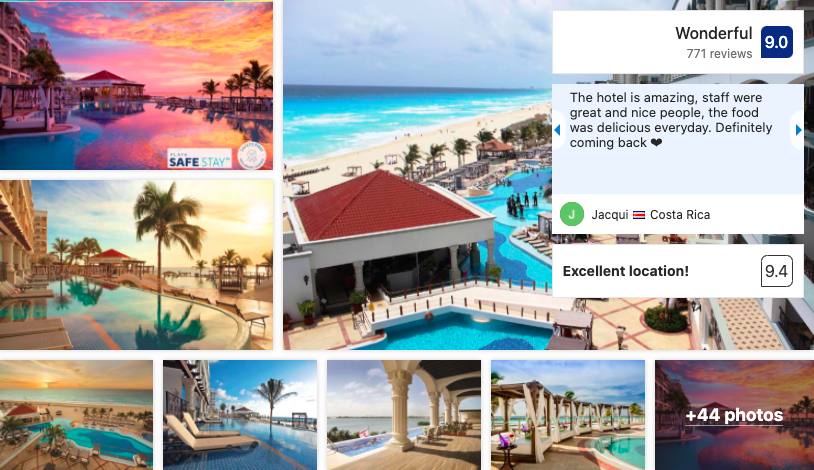 Resort Hyatt Ziva in Cancun
And finally, put the beautiful Hyatt Ziva Cancun Resort on your list of the best hotels in Cancun. Considered one of the most beautiful hotels in this Mexican city, this is a beachfront resort that has everything you can imagine in one place. There, for example, you have: private beach, leisure and entertainment activities, shows, diving, tequila tasting, microbrewery, exclusive butler service, seaside spa and much more. It is pure luxury and comfort, isn't it? Surely you will not want to miss out on this magnificent opportunity at all.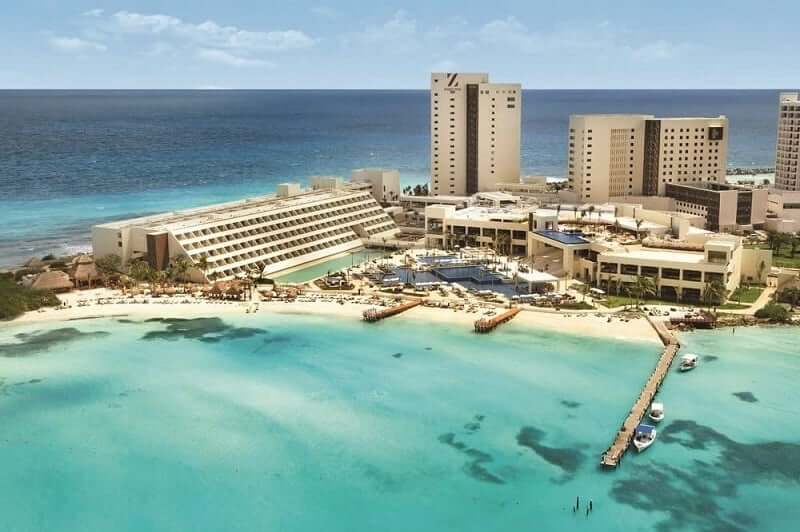 In terms of rooms, they are perfect, as is the entire hotel. The Hyatt's amenities are all extremely spacious, well-equipped, with all available services and a breathtaking view. There, you have: flat screen TV, fridge, coffee machine, great showers, bathrobes, slippers and others. If you're a party and can't wait to go out at night, then believe it or not, but the Hyatt Ziva Resort is just meters from the most bombastic nightclub in town, Coco Bongo. Take advantage and make your reservation immediately by accessing our link.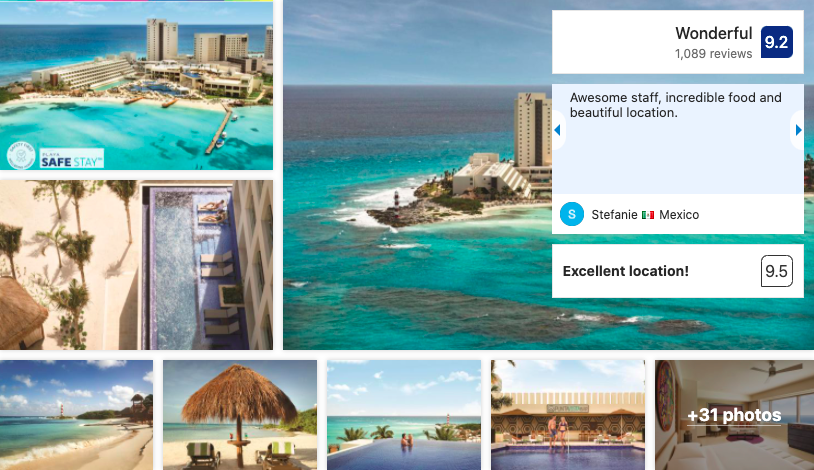 Hotels we've stayed in over the past few trips:
Hotel Solymar in Cancun: The cheapest hotel in the hotel zone. We stayed a few days to focus on the tours and not spend too much on the hotel. We love it. Great cost benefit and well located!
Hotel The Royal Sands in Cancun: The cheapest and all-inclusive 5-star hotel. It is not the same as the other 5-star hotels, but it is the cheapest and very worth it!
Hotel Live Aqua Beach in Cancun: The all-inclusive 5-star hotel we stayed in and found it SENSATIONAL.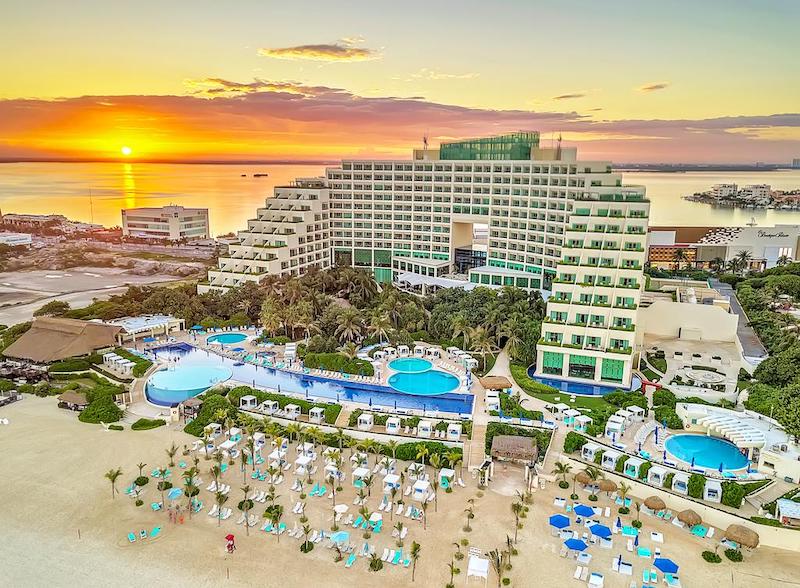 How to find great hotels and resorts at unbeatable prices in Cancun
A great tip for finding great hotels and resorts all-inclusive with incredible prices, in the region you want and save a lot on lodging in Cancun is to use this Hotel Search Engine in Cancun. We always use it as it is the largest hotel booking site in the world and therefore it is the best place to book with confidence and security.
Not to mention that it has all the hotels and resorts in Cancun and the world in his research and unbeatable prices due to the strong negotiation they do with the hotels. We always make our reservations there so we don't have any problems and we always save a lot, especially in the Caribbean.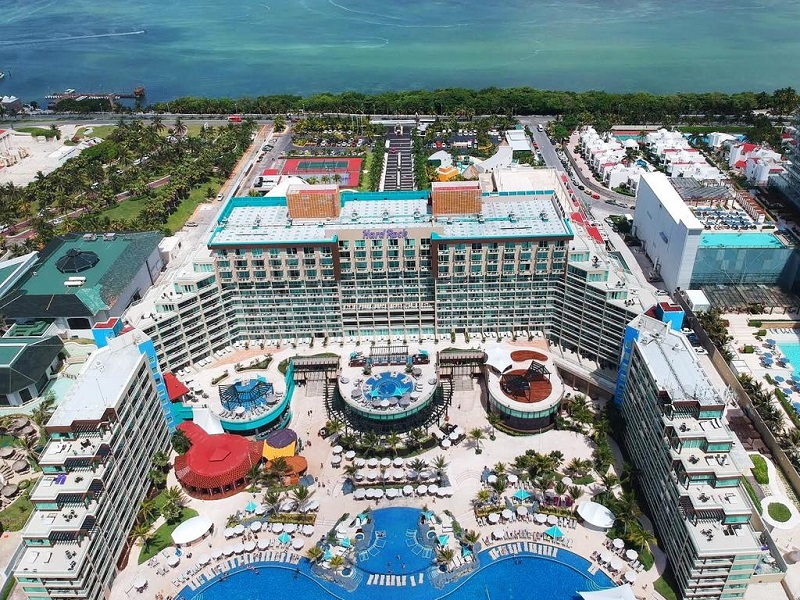 Another very good tip is that this search engine has a very strong partnership with the establishments and they offer free cancellation with almost all hotels. This is great, because the factor that will save you the most in hosting is the advance. This is the most important tip.
The sooner you make the reservation, you can be sure that the cheaper you will pay. So, you can book your hotel now, to guarantee the lowest price, and if you find a better one afterwards or don't want to stay in it, just cancel for free.
Important tips to enjoy much more your trip to Cancun
Now that we have given you all the tips about the tips of the best hotels in Cancun, here are some more suggestions that will make your trip even better. Cancun is a big city and its tourist spots and beaches are concentrated in some regions, so being well located makes all the difference. If you haven't already booked your hotel, be sure to check out our article Where to stay in Cancun, with tips from the best regions and also how to get a great hotel at a great price (and find all inclusive hotels and resorts on sale).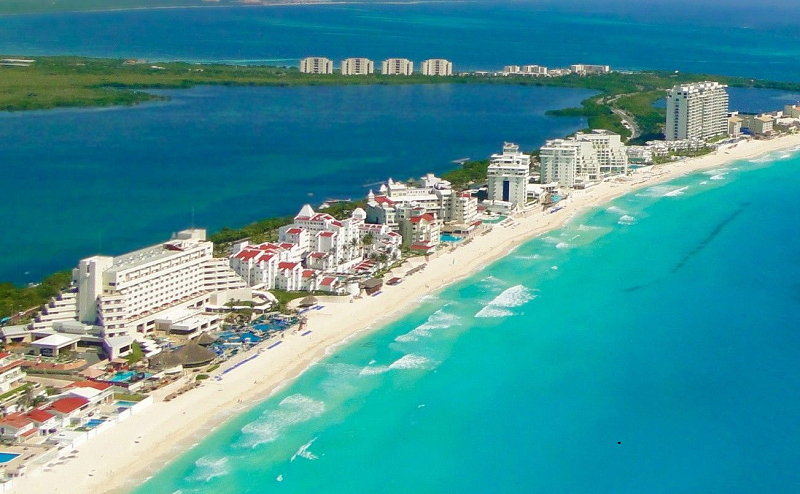 Another good tip is that many people think it is not worthwhile to rent a car in Cancun, but it all depends on how your trip will be. If you are staying at the hotel every day, it really is not worth it. But, if you are going on tours, want to go to shopping malls and tourist spots, they are all a little bit apart and the car is great for getting around.
Even in the hotel zone that has everything there, the distance between the points is great, and without the car you need to take a taxi or public bus. With the car, you have more comfort and freedom, not to mention the economy, because with the value of the transport that you will spend from the airport to the hotel and vice versa, you have already paid the rent of a car for almost 5 days. If you want to know all the tips on the subject and how to get incredible prices, see our full article about how to rent a car in Cancun.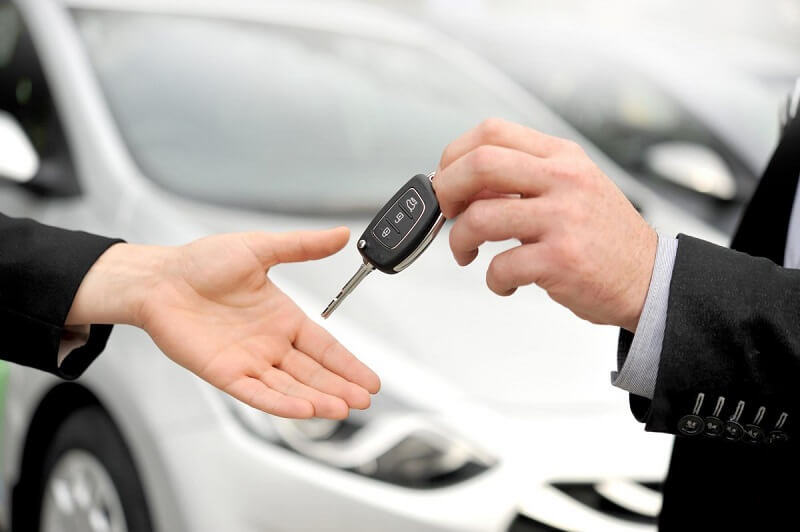 Where to buy the cheapest tickets for tours and tourist attractions in Cancun
A good suggestion to save money is to buy tickets, tours and excursions in advance online. It costs a lot less and you don't waste time in lines there in Cancun. We have done a lot of research and the site that always has the best prices is this Cancun tickets website. They are the biggest tours tickets website in the world.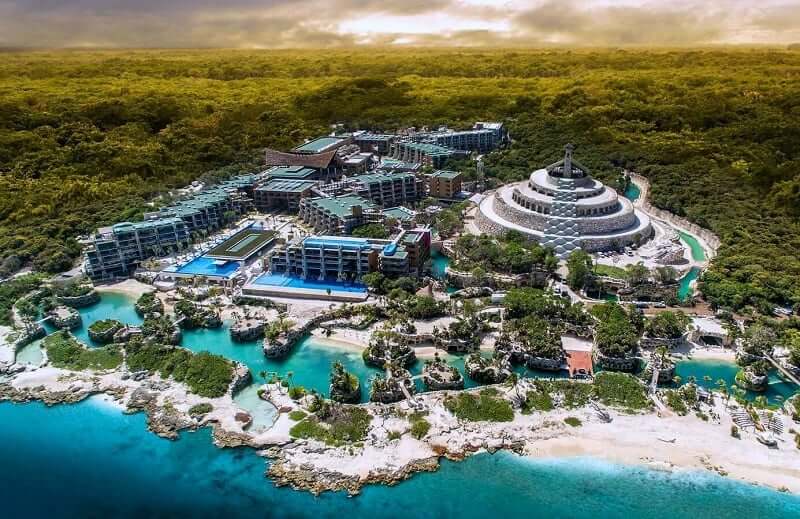 The unmissable tours that cannot be left out of your trip in any way are: the excursion to Isla Mujeres, excursion to X-Caret or Xel-Há (two incredible natural parks), the Coco Bongo party and the excursion to Chichén Itzá, which is one of the seven wonders of the world. It also has the swim with dolphins which is incredible. Virtually all tours pick you up at your hotel and drop you back there.
Don't forget about travel insurance to Cancun
Another tip is to not forget to take international travel insurance to Cancun, as it is very important and no one should leave the country without one. If you want, read our article about travel insurance for Cancun and see tips on how to get good insurance at an incredible price. It is super cheap and very worth it.
How to use your cell phone in Cancun
Being able to use the Internet from your cell phone in Cancun is very worthwhile. The tourist attractions, restaurants, shopping malls and beaches have great applications. In addition, you save by not having to rent a GPS for the car with the rental company, you can search the addresses and times of the places, see the weather forecast to plan for the tours and beaches, stay connected with everyone through applications and post your photos of Cancun on social networks.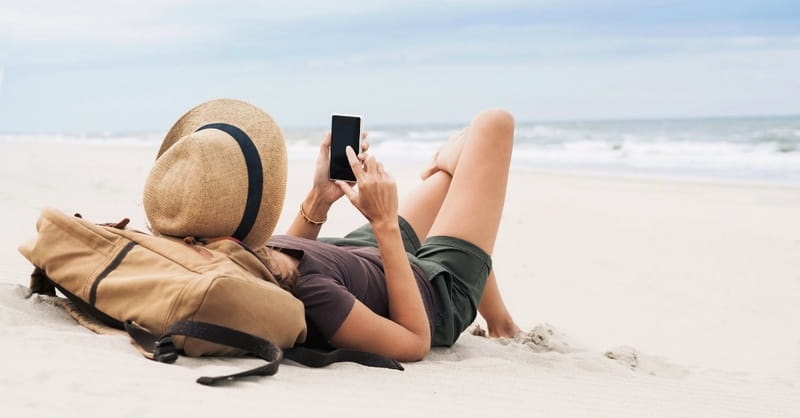 If you want, see all our tips to use your cell phone in Cancun. It's super cheap and you'll be able to use your cell phone all day and anywhere. And, you can also search all about the tips of the best hotels in Cancun for when you're there.
Other must-see articles from Cancun: