Find out the best things to do at night in Cancun. Stay on top of great sightseeing tips and attractions to enjoy the nightlife in this city. With all the suggestions throughout this article, believe me, you will have unforgettable nights on your trip.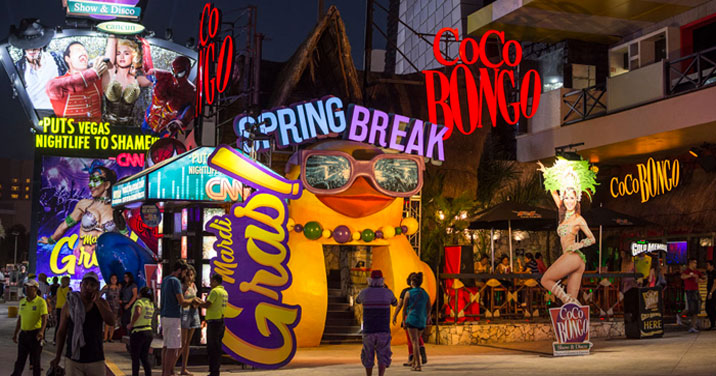 After reading this article, check out our tips about how to save a lot of money on your trip to Cancun. It is the most accessed article on our blog and will help you a lot with all the trip planning. There are several unmissable tips that will save you A LOT of cash and set up your entire trip to Cancun.
How is the nightlife of Cancun
The vast majority of nightly attractions in Cancun are concentrated on Boulevard Kukulcan, the avenue that runs throughout the Hotel Zone. There, you will have at your disposal: restaurants, bars, nightclubs, pubs, shows, cafes, shops, hotels, private beaches and much more. See the exact location of this avenue in the map below.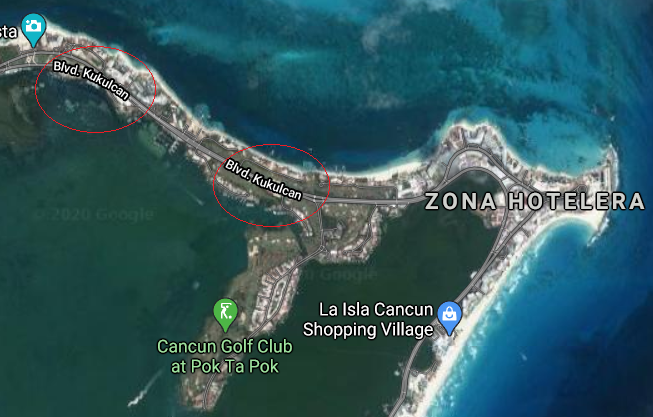 Most nightclubs are concentrated at 9.5 km from Boulevard, and the parties start around midnight and go on until dawn. Because it is a very touristic place, buses run all night, so you don't have to worry about how to get back to the hotel.
1) Coco Bongo
Perhaps the most famous nightclub of the nights in Cancun is Coco Bongo, which became famous because of a scene from the movie "The Mask", recorded there! Today, the nightclub hosts shows from several international celebrities and several incredible new attractions. It is an unmissable place for anyone, regardless of age and musical taste. It has stunning shows and the animation is great.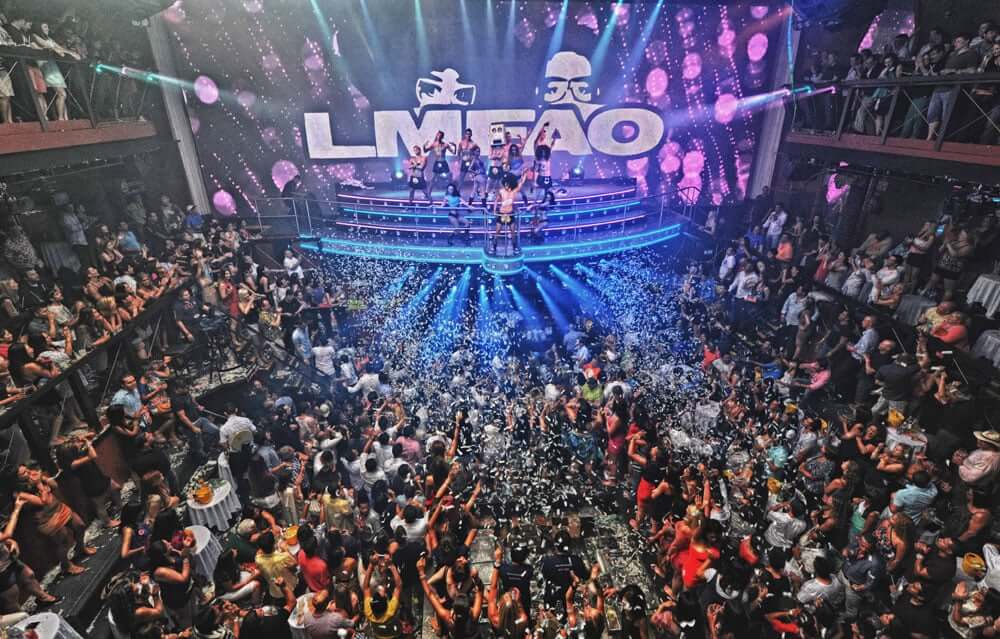 2) The City
The City is the biggest nightclub in Latin America! Its maximum capacity is 7 thousand people, and the house is always full! No wonder, the nightclub is a very famous spot in Cancún. The cool thing is that it receives many international DJs and singers, as well as: Steve Aoki, Flo Rida, Akon and Snoop Dog! Two very famous parties at this nightclub are the Spring Break and the bubble bath!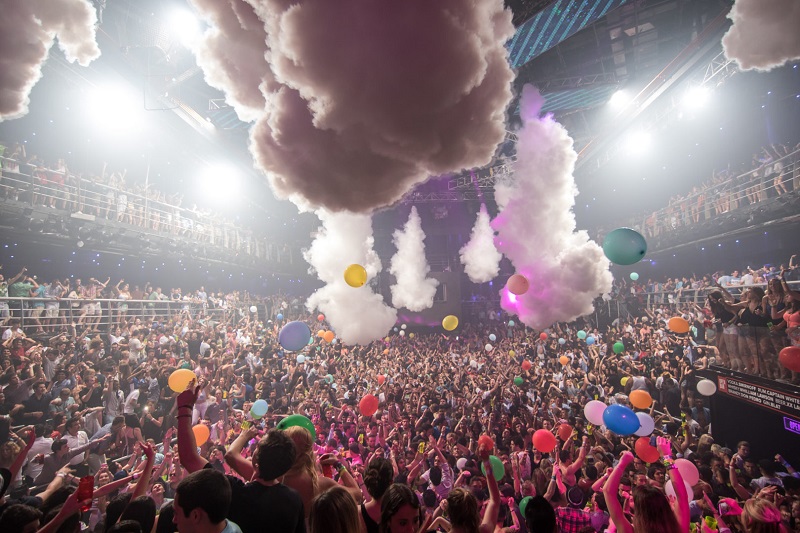 3) Mandala and Mandala Beach Club
Have you ever imagined a club open to the street? Here, you can have that experience! Both Mandala and its branch, Mandala Beach Club, are open clubs – making it possible to see everything that is going on inside from outside. Mandala is a nightclub that plays the main international hits. The Mandala Beach Club, on the other hand, is a party that takes place during the day, with swimming pools and jacuzzis.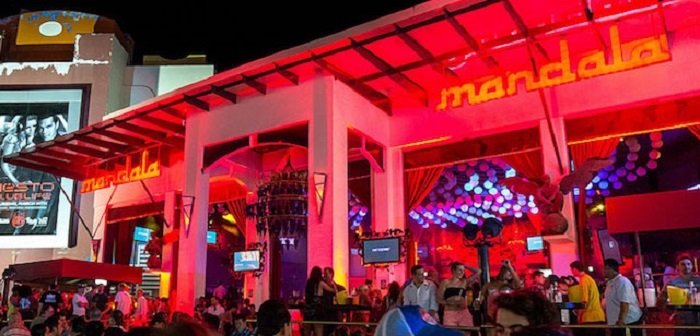 4) Señor Frog's
Like Coco Bongo, Señor Frog's is a traditional Cancun club. In reality, the establishment is a mix of nightclub, bar and restaurant, so you can do whatever you want inside! The team is super excited and the environment is contagious! The playlist is also quite eclectic, attracting people of all ages!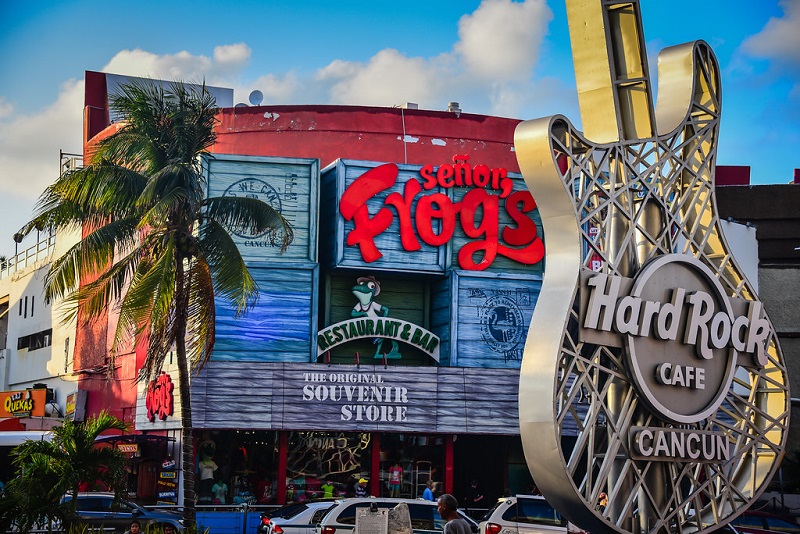 5) La Parrilla
For those who like good food, we now bring you the indication of what is considered one of the most traditional restaurants in Cancun: La Parrilla. It is located in the city center and offers a complete menu with very affordable prices for you to enjoy! Most people who go to this restaurant strongly recommend seafood and tasty Mexican nachos with guacamole. Don't miss out on this and include it in your itinerary for a nice dinner there!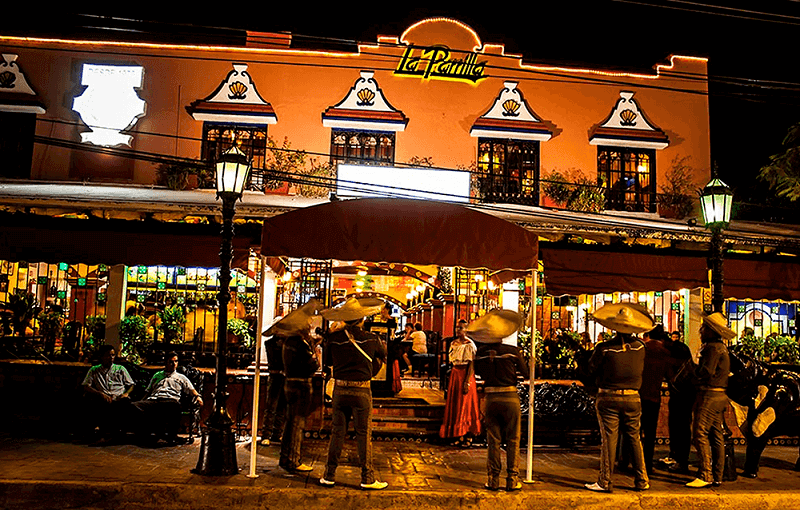 6) McCarthy's Irish Pub
McCarthy's Irish Pub is a bar located in the Hotel Zone, which has a lot of live rock. It is famous for its delicious chicken wings, but the menu also includes snacks, baguettes, ribs, pasta and salads. McCarthy is a great place to taste imported beers from all over the world, as it transports beers from various places like Ireland, Belgium, Netherlands, China, Czech Republic and Cuba.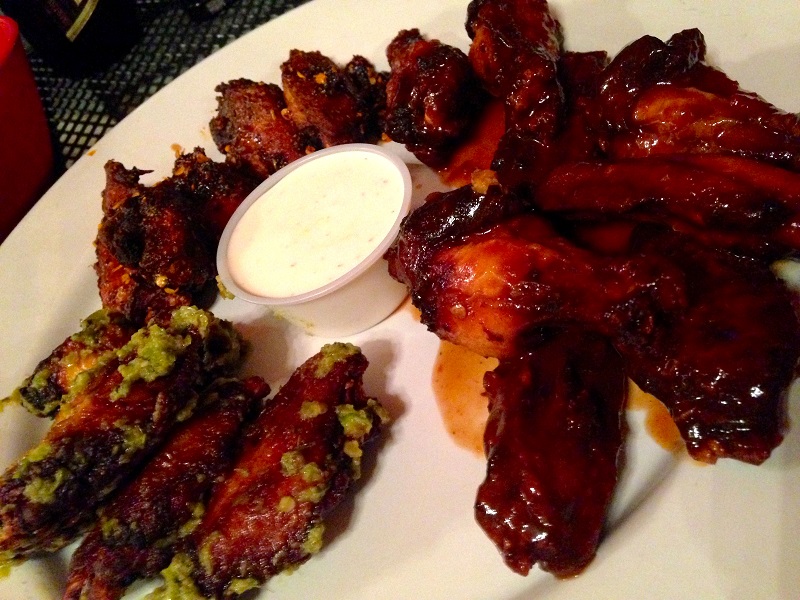 7) Dinner on Captain Hook's boat
This is a fun tour to do with children or friends! In addition to enjoying a delicious meal, you will have a lot of fun with the pirates show, games and scavenger hunts that are held inside the boats. These boats are faithful copies of the Spanish Galleons of the 18th century, all to make you feel in fact on a pirate ship!
Right away, you will be greeted with delicious Caribbean drinks, then you will enjoy a good meal; which can be chicken, steak, lobster, among other options. The tour departs from the Hotel Zone, next to the Oasis Palm Beach hotel, and lasts about 3h30. Dinner costs around US$ 70.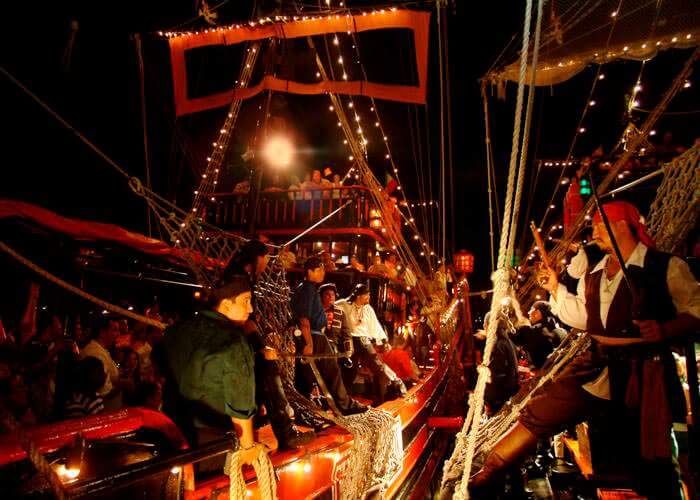 8) Shopping Malls
Continuing this guide to the best things to do at night in Cancun, let's go to shopping malls. Who doesn't like to walk around looking at the stores at the end of the day, right? Those that stand out in this destination and are perfect for quality shopping and have internationally known brands are: La Isla Cancun, Kukulcan Plaza, Quinta Alegria and Forum by The Sea.
9) Hard Rock Cafe
Of course, if you go to Cancun, you can never leave the Hard Rock Cafe out of your itinerary. Located in the Hotel Zone, it has a super varied menu that offers everything from American dishes to typical Mexican foods, in addition to offering wonderful and creative drinks. It is a really cool place to enjoy a meal and one of the best restaurants in Cancun.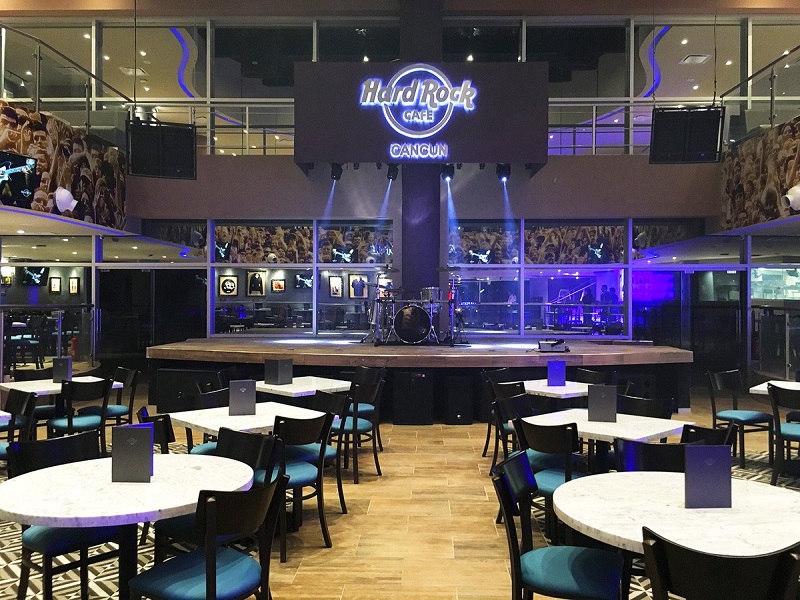 10) Blue Bar
To close this list, be sure to also visit the Blue Bar during your trip. Like the Hard Rock Cafe, this bar is also in the Hotel Zone – more precisely in Forum by The Sea. With one of the most beautiful views in Cancun, from the terrace it is possible to contemplate the Caribbean Sea. The Blue Bar opens daily and features Mexican cuisine, as well as lower alcohol prices than most bars in the region.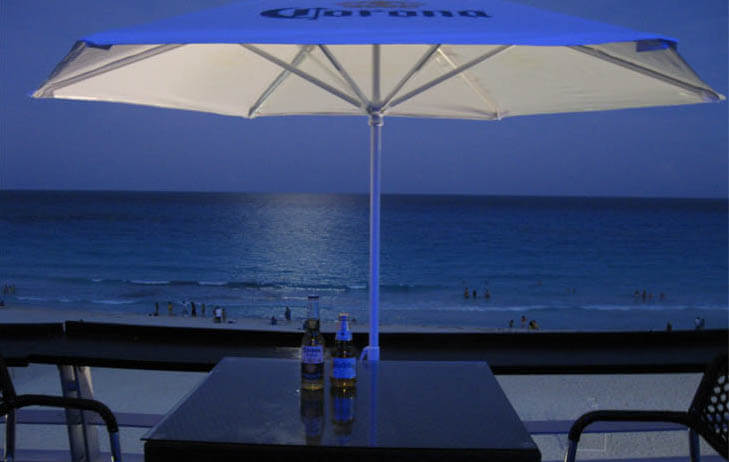 Important tips to enjoy much more your trip to Cancun
Now that we have given you all the tips about the best things to do at night in Cancun, here are some more suggestions that will make your trip even better. Cancun is a big city and its tourist spots and beaches are concentrated in some regions, so being well located makes all the difference. If you haven't already booked your hotel, be sure to check out our article Where to stay in Cancun, with tips from the best regions and also how to get a great hotel at a great price (and find all inclusive hotels and resorts on sale).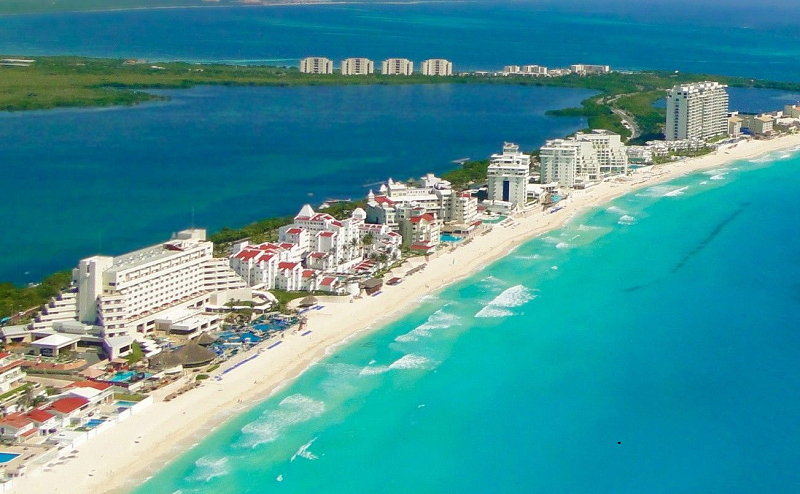 Another good tip is that many people think it is not worthwhile to rent a car in Cancun, but it all depends on how your trip will be. If you are staying at the hotel every day, it really is not worth it. But, if you are going on tours, want to go to shopping malls and tourist spots, they are all a little bit apart and the car is great for getting around.
Even in the hotel zone that has everything there, the distance between the points is great, and without the car you need to take a taxi or public bus. With the car, you have more comfort and freedom, not to mention the economy, because with the value of the transport that you will spend from the airport to the hotel and vice versa, you have already paid the rent of a car for almost 5 days. If you want to know all the tips on the subject and how to get incredible prices, see our full article about how to rent a car in Cancun.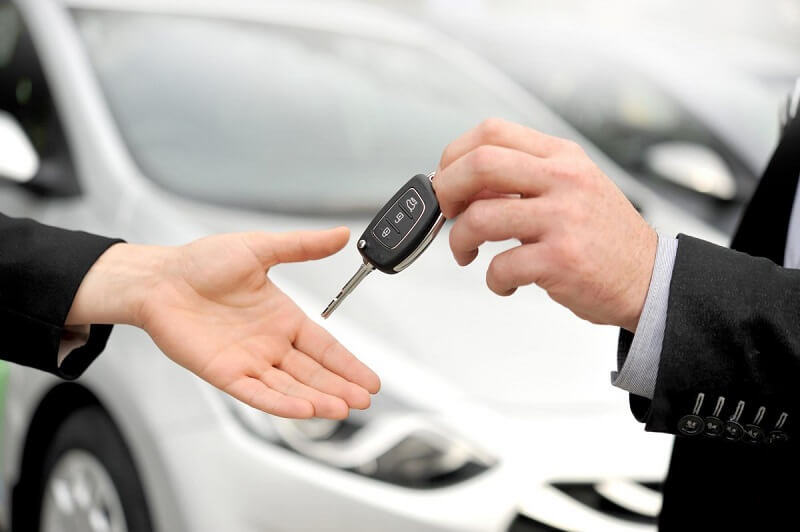 Where to buy the cheapest tickets for tours and tourist attractions in Cancun
A good suggestion to save money is to buy tickets, tours and excursions in advance online. It costs a lot less and you don't waste time in lines there in Cancun. We have done a lot of research and the site that always has the best prices is this Cancun tickets website. They are the biggest tours tickets website in the world.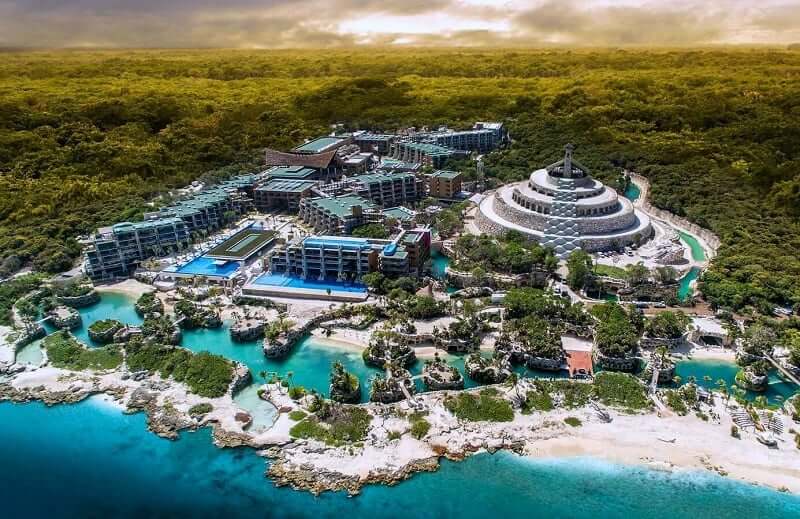 The unmissable tours that cannot be left out of your trip in any way are: the excursion to Isla Mujeres, excursion to X-Caret or Xel-Há (two incredible natural parks), the Coco Bongo party and the excursion to Chichén Itzá, which is one of the seven wonders of the world. It also has the swim with dolphins which is incredible. Virtually all tours pick you up at your hotel and drop you back there.
Don't forget about travel insurance to Cancun
Another tip is to not forget to take international travel insurance to Cancun, as it is very important and no one should leave the country without one. If you want, read our article about travel insurance for Cancun and see tips on how to get good insurance at an incredible price. It is super cheap and very worth it.
How to use your cell phone in Cancun
Being able to use the Internet from your cell phone in Cancun is very worthwhile. The tourist attractions, restaurants, shopping malls and beaches have great applications. In addition, you save by not having to rent a GPS for the car with the rental company, you can search the addresses and times of the places, see the weather forecast to plan for the tours and beaches, stay connected with everyone through applications and post your photos of Cancun on social networks.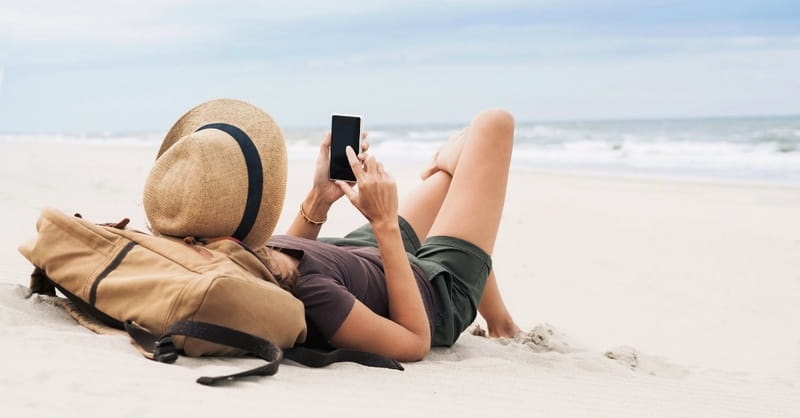 If you want, see all our tips to use your cell phone in Cancun. It's super cheap and you'll be able to use your cell phone all day and anywhere. And, you can also search all about the best things to do at night in Cancun for when you're there.
Other must-see articles from Cancun: